Most us fishermen/women who indulge in fishing will eventually become boat owners.  This is not to say the bank fisherpersons are outcasts, but the opportunities that boats provide when fishing in WATER that seem to be one necessity for fish to survive a boat expands this opportunity greatly.
Here we will only be discussing boats that are readily movable to the fishing area by being a car topper or trailerable.   There are so many different types of boats available now, that it can be mind boggling.  Each type of boat can be designed for different/specialized purposes.  I challenge you to find ONE boat that will fit ALL fishing needs.  As there are small 8′ to 12′ boats that fit well for small lake fishing for trout/perch/crappie or even bass.    While on the upper end of the scale are larger boats in the 26′ class designed for more open water like large lakes or the ocean.  The reason my arbitrary 26′ length is that about anything over that length requires special oversize permits to transport it, which takes it out of the normal "readily transportable" category.   Then of course there is a whole slew of boats that fit in between these two categories.
Your First Boat ;  There is a saying that goes something like this.  There are two joyous days in a boat owners life.  One is the day he buys a new boat and the second is the day he sells it.  There is another that using the spelling of BOAT which translates to Break Out Another Thousand.   It also has been described as that a boat is a hole that you pour money into.  For those of you who are uninitiated, anything associated with boats, ( or about any recreational vehicle) parts or accessories seem to be way more expensive than any other item.
Most of us do not really do a lot of research when we get involved with our first boat, but merely as what comes along at the price we can afford.  This can be disasterus at times as most would be used in this case and the new owner probably would not know what to look for as to what/where to look for as condition.  Some especially in wooden or even fiberglass may have rotted or badly damaged parts which could be very expensive or even non repairable.   Metal, (aluminum) boats if the older riveted type can also be almost impossible to completely repair.
Now on the lighter side, any boat is better than none, and if used safely can be very satisfying.   When buying a boat, there needs to be some method of transporting it unless you are fortunate to live on a body of water.  This can be "Car Topping" if the boat is small and light enough.  These are usually confined to 8′ to 12′ and being constructed of aluminum or fiberglass.
Anything longer/larger would require a trailer to be used to transport the boat to your intended water.  Usually normal utility trailers are not used here, (however you will see a few).  Boat trailers are designed specially for this purpose.  Depending on the style they could have 2″x 6″carpeted bunks for the boat to lay on, OR rubber rollers which allow heavier boats to be easily winched the last few feet and into nests to tie the boat down.
OK, we now have a boat and the means of getting it to water.  Did any accessories come with it?  How are you going to propel it?  Oars or motor power?  Seats, especially ones with backs on them are good?  Rod holders?  Anchor?  Mooring lines?  Rod holders?  Depth finders?  Coast Guard approved lights?  However probably most important how conversed are you with water safety?
For those of us who have basically owned boats all our life, the above sentence comes second nature, but to a newbie, this could be very intimidating.
I am now 76 years old and have owned 23 different boats during my lifetime.  It seems that when I either built or bought every one of these, I was sure that it would be the last boat I would ever want.  However I did purchased a couple to sell/give to son-in-law or grandson.  Well time changes, either you move to a different area where the old boat may not fit well, or your interests change possibly because of a decline in the fish you were after or your fishing partner moves or passes away.  Maybe also there is a time in your life that work or family is more important and your boat sits idle.  Or your fishing partners, son/daughter even grandkids get so busy or move away that you can not operate the larger boat that was great when they could go to help launch/operate it.
My suggestion is before you pick your first boat, that you try to go out FISHING with friends or neighbors on as many different styles/makes/models as possible doing likewise as many different types of fishing so you can get more educated in what you may need in your search.  Boats and gear costs MONEY, so the more informed you can be, the better off you will be in deciding what you really need in YOUR situation, which will save you big dollars in the long run.  Do not get caught up with the idea that a bigger boat is always better.
The difference between a used mistreated boat and Pandora's box is that in the bottom of Pandora's box there was hope.  In the bottom of a used mistreated boat, you will only find rot.
Boats I Have Owned ;  Listed below are the boats / motor combos that I have owned, I will give a rundown of each, what I did to make them fishable and why I got rid of them.  There is probably no reason to go into why I bought then to start with.
(1)       1946        7 1/2′ cedar dugout   —  I built
(2)       1950      12′ barn board (didn't float)  —   I built it also (or tried to)
(3)       1958      16′ plywood boat, 16hp Scott Attwater (56)   —  purchased  used
(4)       1961        8′ plywood pram — I built
(5)       1962      14′ plywood rowboat,  4.5hp Johnson  —  purchased used, cut down to 12′.
(6)       1963        9′ plywood pram (sailing),    2hp Elgin (47)    —  purchased used
(7)       1963      12′ Monk plywood, 10hp Mark10 Mercury (58)   —  I built in basement
(8)       1967      22′ Monk plywood inboard, 318 Chrysler  —  I bought unfinished hull & finished it
(9)       1977      15′ Herters cargo canoe,  9.9hp Johnson (78)  —  purchased new
(10)     1977      16′ aluminum Jon boat, 35hp Johnson   —  purchased new off factory truck
(11)     1979      12′ Columbia fiberglass conventional hull,  9.9hp Johnson (78)  —   purchased new from Columbia factory at Rochester WA
(12)     1980      19′ Caulkins Bartender 40 Mercury  —  traded for it used, never had time to use, so sold it
(13)     1982      10′ Columbia (68) fiberglass tri-hull, 9.9hp Johnson   —  purchased used,
(14)     1986      16′ Lavero drift boat  —   purchased used, never used
(15)     1992      17′ Glasply (73) 50hp Johnson (81)  —   purchased used
(16)     1996      16′ Peerless (59) 35hp Johnson (59) —   purchased used for son-in-law
(17)     1997      20′ Tiderunner (92) 150hp Yamaha (92) 9.9hp Yamaha (92)  —   purchased used
(18)     1999      14′ Sears aluminum   —   purchased used
(19)     2000      16′ Hewes Craft (79) 40hp Johnson (71)  changed motors to70hp Johnson jet, 9.9hp Johnson (92)   —   purchased used
(20)     2007        9′ pontoon boat Outfitter 300   —  purchased new from Costco
(21)     2008      10′ Columbia (68) FG tri-hull   —   purchased back from previous buyer
(22)     2009      18′ North River Mariner (05) Evinrude 75 E-TEC (05), —  purchased used,  8hp Yamaha T8 (09)  – purchased new
(23)     2011      12′ Columbia(68) FG tri-hull,   9.9hp Johnson (92)   6hp Johnson (85)  —   purchased used
(1)   We lived close (like a stones throw away from a small creek), which I fished a lot.   When I was about 9 or 10, after reading about Indians making cedar canoes by carving/burning out the inside.  Dad had an extra 7 1/2′ cedar fence post log that was split down the middle.  It had a some bug infected/rotted section on one end.  I got permission to make a dug-out canoe out of it.  This log was probably 30′ in diameter.  I spent a lot of time chopping, then would set fire inside to try to get it shaped into something that resembled a boat.  I finally got the sides whittled down to about 3″ to 4″ thick and simply gave up on getting them thinner.  The rear was where the rotted wood was, but I tarred it and then nailed  3/4″ lumber on top of the tar, which pretty well kept most of the water out.  It had a round bottom and therefore was not the most stable boat.   And my marine engineering was limited, otherwise I would have made probably made it flat-bottomed.
This creek was not big enough to really go much of a distance, but there was a decent deeper/slow water between a couple of riffles, that became home to this little tub.  It soon became obvious that propulsion was best by just using a pole and pushing it around instead of trying to paddle it.
(2)  In an effort to improve on the above design, I used a couple of 3/4″x 12″barn boards (knots included) and used them for sides of my newly designed lighter boat.  Maybe with this I could float downstream a mile and ply the river with it.  The bottom was made of 3/4″ x 4″ boards nailed to the sides and another barn board for the transom.  I had hoped that these bottom boards would swell up when the boat was put in the water and pretty well seal thing up.  Well no such luck and the boat sunk more than a few times, so that idea was a failure.
 (3)  After we got married and before the kids came a long, we bought a used 16′ plywood boat with a whopping big 16hp Scott Attwater motor.  The wife and I spent a number of days on lakes trout fishing and others at the mouth of the Columbia River salmon fishing in this boat.
 Then I started building a house, a son was born, the boat did not get used much.  Loaned it to a younger brother, who was trying to impress some girls at a graduation party on a local lake and he did not secure the fuel tank under the seat like I instructed him, which when he filled it full of fuel, slid against one side and jiggled enough that it pushed this side out from the nails in the bottom chine.  Since it started leaking, the girls poked Kleenex into this 16″ long crack.  Have you ever tried to remove this kind of a temporary repair?   I got as much tissue out as possible, screwed the side back on as best as I could and then tarred over the remaining Kleenex.   This pretty well did the job.  A friend came along and just had to have the boat as he had been exposed to fishing for catching black rockfish in local protected saltwater area.  I took him on a trip to his newfound waters, we caught numerous fish with the the boat performing well, so I sold it, and I continued building the house.
(4)  After the house and garage/shop was built, there was a bit of spare time again and I built a 8′ plywood pram.  This venture relied on oars for propulsion.  I fished a few local lakes for trout with it for a year.
(5)  I then borrowed a 14′ plywood rowboat along with a motor from a co-worker, proceeded to haul it in the back of my 1951 Ford 1/2 ton pickup to a bay where a river ran into that was notorious for sea run cutthroat trout and blueback.  The first trip there, I of course did not know where to fish, so turned and went downstream for a 1/2 mile.  No bites, so decided to run upstream.  As I was nearing the side creek where we had launched the boat, another boat came roaring upstream past me, creating a wake.   I pulled slightly out of the center of the river to let him go by and WHUMP WHUMP.   His wake had covered up a dead-head root-wad that I went right over the top of, ripping a hole in the bottom about 14″ long.  This was a rowboat with slats for the walking inside bottom which were about 1″ apart.  Water came rushing in, I kept the power on the 7 1/2hp motor that I had also borrowed, headed to the other side of the river and the side creek where we had previously launched.  The boat was slowing down fast because of the big hole in the bottom with a lot of water coming in.  We barely made it to the boat launch as water was getting 6″ deep inside the boat.
Guess what, I convinced him to sell me the boat.   I made a plywood patch, one on the inside and another on the outside, tarred and screwed both to the hull and we continued to fish the season.  The only problem is that this 14′ boat had considerable overhang on the rear of a 6 1/2′ bed 1/2 ton pickup.
After the season, I made a new transom, fitted it into the hull 1′ in front of the original transom, glued/screwed it in place, then cut off the excess.  I then pulled the sides loose on the front, shortened the bow by another foot, made a 2″x 4″ bow plate and glued/screwed this together then again cut off the excess.  Now I had a shorter boat that would work better in this pickup bed or offered a better chance of reselling it.  Which I did the next spring.
(6)  During this time I had the opportunity to purchase a 9′ sailing pram.  The center board had been removed and it was ready for a small outboard motor.   I had traded for a non running 1947 Elgin 2.5hp outboard motor.   This boat, motor combo was used for duck hunting, lake trout fishing and many pleasurable hours on the water were spent in it.   However it was rather small with the 2.5hp motor was not large enough to buck the river current during a high tide run-off of the river we had found with the previous boat.
(7) Now that I was hooked on this fishing area and during the winter months, I took on building a 11′ 6″ plywood fishing boat.  My new house had a full basement with a fireplace.  I would build a fire in the basement fireplace and spent the winter months putting together this boat from plans I purchased from the Douglas Fir Plywood Assn. which promoted their product.  This boat was designed by a marine architect by the name of Edwin Monk.  This boat was made with oak ribs, chines, stingers, keel and bow material.  I special order 12′ marine grade plywood.
The outer keel and side rub rails were boiled in water in a 4″ steel irrigation pipe with one end welded in and over a fire to make the oak more flexible.  All the fasteners were brass screws.     One layer of fiberglass was laid over the bottom and up 3″ on the sides.  The complete inside was painted twice with Thompson's Water Seal, then allowed to completely dry before the final paint was applied.  A special catch all drawer was made to attach under one of the rear side seats, while there was enough room under the other for the fuel tank.
When this was done, next came the chore of moving it up and outside.  I removed the floor above the outer stairway to better allow this new boat to come out the door, turn 90 degrees and go up the outer stairs.  One more coat of paint and it would not have made it.
 I purchased a used 1958 Mercury Mark10 10hp outboard motor to accompany this new boat.   Then I made a boat trailer mostly out of large water pipe to fit the boat.
 This little boat served me well for about 5 years until I got the urge to go to bigger and more glorious things, like make a larger boat.   I then sold it to my father who had just retired.
 (8)  I had been looking at larger boat plans for about a year, even purchased a couple of sets of plans for 18′ and 20′ models.  Then one day in the local paper there was a unfinished 22′ plywood hull advertised for the price of $200.   Upon inspection, I found it was also designed by Edwin Monk.  I managed to borrow a car moving trailer and with help of a couple of friends hauled it home.  This was just a bare floatable hull.  The previous owner had drilled the keel for installation of a inboard motor and accompanying rudder.  The one thing that did not really thrill me was the keel, ribs and bottom stiffeners were made of spruce.
 I spent a goodly number of months getting the hull finished which included a cabin, bunk, sink and head.  The motor was from a Plymouth car my father-in-law owned which had a 318ci V8 motor.  I found a used marine transmission and bought a flywheel housing to adapt the two.  The (2) 20 gallon fiberglass fuel tanks were made off a plywood mold then mounted up under the overhang in front of the transom.   Fuel level was obtained by not painting a 1″ vertical strip on each corner as a visual indicator in this somewhat clear tank.   Marine water cooled manifolds were purchased, as well as a marine gear type water pump.
 This boat was used for sport salmon fishing out of Westport WA. the next year on every week-end.   This same basic boat with a few modifications was used the next six years as a commercial salmon troller.  Every week-end and all vacation days were taken during the summers.  This fleet of small commercial boats were nicknamed the "Kelpers" as we were small enough that we could not carry any ice, fished closer to shore where kelp usually was present and we had to be back in port at night because we could not carry enough fuel to stay out.
During this time I was running a part time gunsmithing business, but lived on a out of the way county road.  I had the opportunity to trade properties with someone who lived on a main highway but had a couple of young children and wanted a less traveled road to live on.  We traded/moved and remodeled the existing garage into a gun shop.  This location was what was needed to jumpstart my part-time business which within four years turned into a full time family business.   Needless to say, business came before pleasure and the boat sat for the last year, until someone driving by inquired, then soon became the new proud owner of a commercial fishing boat AND the licenses required.
Here was my 22′ commercial troller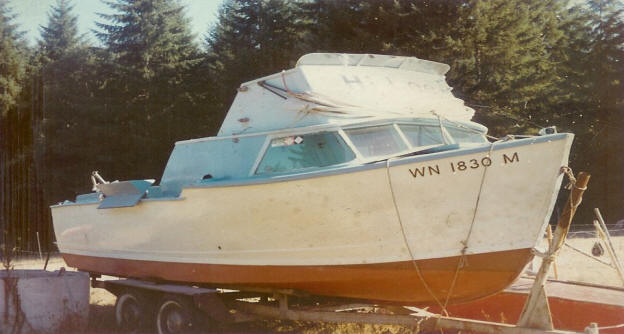 (9)  Without a boat but still yearning for some boat type fishing, and after about wearing out a Herters catalog , I ordered a 15′ Herters single ended cargo canoe.   This took a couple of months before it came in.  I purchased a new 1978 9.9hp Johnson, but did not have a lot of time to use the two.  Finally I got it put in the local river and proceeded to make a downstream run.  Problem was the motor was more powerful than that round bottomed canoe could withstand where we got a VERY sensitive stable situation at anything over 1/2 throttle.
 The boat got little use for the next 2 to 3 years because of the business, and I finally sold it, but kept the motor.
 (10)   My father-in-law happened to hear of a long haul trucker from Arkansas who was making a delivery of aluminum Jon boats to the Pacific Northwest, but the company he was to deliver to for some reason was unable to pay for the boats he had onboard and was to deliver.  The word is he called his home office and was told to sell the boats to get enough money for fuel for a return trip.  I bought a 16′ Jon boat and the father-in-law bought a 14'er.
This boat was fitted with a center console and a 35hp Johnson outboard.  It got used a couple of years in the bay / lower river, but the business kept keeping me busier that I wanted and a newbie river fishing guide twisted my arm enough to let me part with this one.  He used it for guiding on the Cowlitz River for many years.
(11)  OK, maybe if I had a smaller boat again I might be able to do a bit of lake or lower river fishing even though the business was going strong.  There was a fiberglass manufacturing company in a close by town that occasionally would sell 2nds.  These 2nds were boats that the glass might not have been as thick in places that they did not want to sell as first class, so would part with them at a discount.    I purchased a 12′ conventional shaped hull model and used the 9.9 Johnson that I had kept.    Great boat, great performance, but the only thing I found was that with someone sitting in the bow, it was hard to control as far as steering (too much bow weight at faster speed).   A friend owned the same size and brand but in a tri-hull design.  Very stable boat.   But I kept this for a few years.
(12)   About this same time, I had acquired a Alaskan pop up camper from a hunting partner.  Again the business was going great and  if you are a good gunsmith, you are snowed with work during the hunting season so have little use for a hunting type camper.   One of my neighbors had acquired a used 19′ bartender boat with a 50 hp Mercury.  These boats are a double ender with the motor in a well near the stern.  Very seaworthy boats.  We made a trade.
At this time I did not have room to store any boats inside so had to cover them with a tarp.  Business kept growing and my time kept getting short with longer hours spent in the business.  This boat sat in the back yard for a couple of years and I was afraid that it might deteriorate to where no one would get any benefit from this fine boat.   So I sold it to a person who realized what it was and it's possibilities.  It is still being used on the Columbia River.
(13)   During this time I would attend a couple of gunshows a month, promoting the business.  My show partner lived near the area where we used to fish on the bay.   He was prone to do a lot of trading.  From him, I acquired a 10′ Columbia tri-hull made by the same company I had previously owned the 12'er.  This little boat worked great as a car topper for my Toyota pickup.  I used it for a number of years, then after my son got married, he was looking at it, used it, then bought it so he and the new bride could enjoy fishing.
(14)   A friend was working for me and he used to Steelhead fish a lot. He had the chance to buy a used fiberglass drift boat, asked if I was interested in becoming a partner in it.   We bought it and his dad built a trailer for it.  Work was so much that in a year we never used it once, so we sold it.
(15)   We finally got the business so I had at least Sundays off, and purchased a used 17′ Glasply with a 50hp Johnson outboard from a friend that was getting old enough that both he and his fishing partner brother both had arthritis so bad it took trade offs even for them to load the boat on the trailer.  This little boat and motor was a great combo.  I made time to fish it in Puget Sound, Willapa Bay, Columbia River and the Pacific Ocean with it.
However one trip to the Columbia fishing Buoy 10 area was a day I should not have been there.  The plan was to have the son-in-law and grandson meet me at the Illwaco launch.   That day weather was not that great, but before they got there, I looked southward, saw a blue hole in the clouds, thinking, OK the weather will clear up.  Wrong, it got worse once we were in the river, rough, rain and wind.
It was so rough that this little boat bobbed around like a cork and heading into the wind/chop, we took more than one wave over the bow, up onto the windshield and under the snapped on convertible top.  Boy that water was cold in your lap.  The only boats that were catching fish were larger ones that could weather these waves, and even they were working at it.   We were trolling south, but the lines were going under the stern as we were being pushed north.   I decided that we had better call it a day, told the son-in-law to pull in the lines.  He got one in and on the second, (mine) hollered STOP, STOP, STOP.  OK I did, but we were then drifting close to a pilling breakwater just south of the Chinook channel entrance.  I asked what was wrong.  "Your line is tangled in the prop".  Get it and the other in and we need to get out of here NOW.
OK, fire up the large motor, try to put it in gear and it dies.  Try it again, dies.   It appears that there was so much monofilament line wrapped around the prop shaft that the motor would start in neutral, but there was so much  resistance that it could not overcome, to allow the motor to run while shifting into forward.  Basically dead in the water and the piling was coming up on us fast.   I dropped the 9.9 Johnson kicker motor down and it started on the 2nd pull.  We came all the way back to the Illwaco launch on the kicker.  It was rough enough that at times it's prop was out of the water. 
After the boat was loaded and pulled up on top of the parking area, I walked back, inspected the tangled line situation AND kissed that little motor.  There was a larger boat there near us where two fishermen were also removing line from their twin rotating Volvo outdrive.   One saw me kiss the kicker and told his partner "I don't know what happened over there, but I don't want that guy pissed at me".
Needless to say I had motivation to look for a larger boat if I was to continue any kind of this type of fishing.
(16)  Purchased a 16′ plywood boat with a 35hp Johnson from a friend for my son-in-law.  But he lost his job soon afterwards and I sold that boat.
(17)  In my search for a larger boat, I remembered from a couple of years before when three of us took our boats to Neah Bay halibut fishing and one of these boats was a 19′ Tiderunner.  Very nice, seaworthy boat.  Watching adds and dreaming, (we) the wife and I took a add from Fishing and Hunting News, headed to Tacoma to find the Tiderunner plant.  When we found an abandoned location, but with a sign for their Gig Harbor location.  OK, a side trip to Gig Harbor where we looked at new on boats display.  But they did not have the 19'er on the floor, however the salesman said "come with me as they also rented moorage and there were 2 fishermen who had theirs moored that he was sure would not object if we looked at them".
Price was a bit more than I anticipated with the extras I wanted if they were to build me one.  So the next week I called back and inquired, "do you have any used 19'ers".   No, but  we do have a used 20′ on consignment and a used 22′ that we took in trade.  Another trip up and I made an offer on the 20'er.  This boat was 5 years old, in excellent shape and had a 150hp with a  9.9hp Yamahas.  It only had 53 hours on it.    The next day I got a call and the boat was mine if I was still interested.
It appears this boat was only moored in a yacht club, used to get the owners into a social club.  It to took many months to get this non fishing boat outfitted into a fishing boat.  It was used many years fishing from the Columbia River, Westport,  Neah Bay , Canada, Port Townsend to Olympia WA. salmon, halibut and bottomfishing.
I usually took my son, son-in-law and grandsons out.   The son bought my business and his spare time diminished considerably, my daughter and family moved to Montana, so I lost my fishing crew.  About this time I got pushed into taking a friend and his father-in-law's vacation at the time they wanted to go.  They paid my fuel bill, offered a meal or two at their RV.  I paid the moorage, upkeep on the boat, oil mix for the 2 cycle motor, insurance and the bait.  Hell, I was chartering but got no reimbursement.  I let this happen for 3 years, then when I finally had enough, requested a better compensation, that friendship pretty well ended.   On one of these trips I had a partial retina separation in my only eye (I have a prosthesis in the other).  I was not sure what was happening so toughed out two more days on the boat.  Finally this took a trip to the doctor and emergency room laser surgery.
I had gotten burned out by their "friendship" and my allowing it to happen.  The boat sat for a year and then when I finally got back into the mood to fish again, I wound the rewiring as some of the wiring getting corroded and the whole boat probably needed to be rewired.   In the meantime I purchased (#18) a 16′ Hewescraft jet sled which I used extensively in bay and river fishing.  I would start up the Tidreunner's motors every few months then tried to sell it.  The economy was down and those that were interested did not have any money.  I finally stripped the Tiderunner of the kicker motor, radar, 2nd sonar, Port-a Potty, etc.  And sold the trailer for $1000 and gave the boat away.
I was using the Hewescraft mostly in the bay and lower tidewater rivers, but never really got to where I was comfortable running the jet in swift river water.   Running upstream was no problem, but going downstream, you have to be going faster than the current in order to maintain control and things can happen fast.  Maybe I am to old to learn this.   The daughter moved back from Montana and one grandson is a fisherman so I kept this boat but have put his name on it in my will.  One of the reasons for me keeping it is they live in a house with no off street parking and in a pretty high crime area.   But because this 19 year old is pretty much a loner and in a different area from where he grew up, I gave bought back the (#13) the 10′ tri-hull and a 6hp Evinride acquired from my son, and gave these to this grandson where he can haul in the back of his pickup.
(20)  The rage seemed to be floating the rivers.  I bought a 9′ pontoon boat.  Used it twice and decided that this was not for this fat boy with a bad back.
(22)   Next in 2009, was a 3 year old welded aluminum 18′ North River Mariner with a Evinrude 75 E-TEC motor   I later purchased a new 8hp Yamaha T8 (hi thrust with power tilt) as a trolling motor and made some modifications to the boat to make it more fishable for me.    This boat is not the ultimate, but does what I want if I watch the weather when I want to go to the ocean salmon fishing.  It is small enough that I can launch/recover and comfortably fish it alone if I can not get anyone to go with me.  The convertible top gives protection from the rain and what sun we get here in the pacific northwest.  The motor is not overly large, gives me good fuel economy in today's high fuel prices and gets an easy 32 mph with 2 persons with a full 35 gallon fuel tank.  That is good enough for me, as speed can be the worst thing you may do to get into trouble on the water.
This was not the boat I really was interested in, (however very similar as I was looking for a 18′ Hewes Craft) but this one happened to be the one I could afford at the time, and we do catch fish out of it as witnessed below.
A nice day's catch of Chinook to 16# & a Coho, bay fishing with
my son
Here is a 22# Chinook, again bay fishing with the North River
boat in the background
 (23)  After giving the 10′ tri-hull to one of the grandson, I traded for it's larger brother, a 12′ that I intend to use as a car topper on racks on my pickup truck.  Then traded a rebuilt 1974 9.9 Johnson for a 1985 6hp Johnson that I will use on this boat.  The plan was taking it to British Columbia for a week's fishing trip and using it in upper tidewater salmon fishing in the fall if 2012.
Here is my current lake boat on a Canadian lake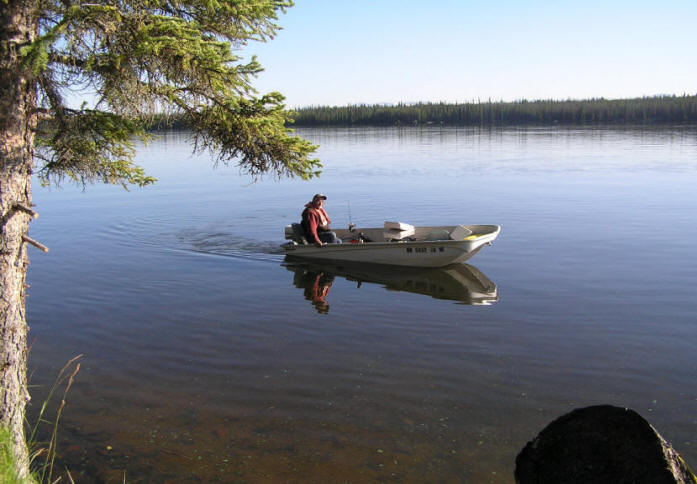 Overview ; All this above is to portray that OK maybe I am a boat junky, but times change, and your needs may also change for what ever reason.  Your geographical location may change because of a job change or heath reasons.  Fishing will very likely be different in other locations.  AND there is really no One Size Fits All boat.  Your prime concern when using any boat should be safety.  Some boats will simply not be safe in some locations/conditions.  While a 20′ cabin cruiser would probably have problems in a shallow 10 acre pond.  First rule on boat ownership is there is NO BOAT THAT IS A COMPROMISE for all types of fishing, there are only compromising fishermen.  The perfect all-around boat is usually the one the other guy has.
If you are a dedicated fisherman, some of us fish for relaxation, others because you like to eat fish, (or have to eat fish because of diet constraints).  Others like us retired geezers simply have worked hard all our life, saved our money and now have time to enjoy what we like to do, or need a reason to get out of the house.
As you can see from my life history of owning boats, they were results of opportunity and/or my ability to cover financially at that time.  If I had unlimited funds and could have a boat built for my current fishing desires, yes I could very easily put together a wish list.  This boat/list would be totally different now that it was 15 or 20 years ago.   However if you visit many marine dealers, they SHOULD be able to, by asking your fishing type/styles provide you with pretty sound information based on previous boat owners needs.  BUT be careful of the salesman who wants to dump something on you, does not offer a trial run, or wants you to lay cash or credit card on the line NOW.
Join a fishing club or two, let it be known that you do not have a boat and would be interested in sharing expenses in your effort to find the right boat for your needs.  You might even learn new styles of fishing than you never even considered, which will ultimately govern what boat you may need.  Think about what you might need not only now, but down the road and take your time.  Remember the word BOAT, you can spend a lot of money by making bad/hasty decisions on buying the wrong style of boats.
Like I mentioned early on, each fishing boat will be outfitted differently and you can learn by observing.  This type of learning is a lot quicker than you stumbling around, and not understanding what is happening.  I do not care who thought of a good idea first, but if it works, then thank the guy and follow his lead.
Copyright © 2012 – 2014  LeeRoy Wisner  All Rights Reserved