Safety on the Water ;Safety on the water should be your prime concern on any water outing.  I have had a deal with my wife for a good number of years, I can go fishing just about when I want, IF I COME HOME.  And I really try because if I don't make it home, I would probably turn over in my grave if she sold my gear for what some helpful "friend" offered her.  
I make it a point to go over EVERYTHING on AND in my boat to be sure it is in tip top shape before the season starts, then about mid season also.   So many things can go wrong, that we may or may not have control over that there is no sense in giving them the edge.  I have seen so many boaters who should not even be allowed on a boat, much less own and operate one.   I have known a couple of boaters who had no clue as to what they were doing or the consequences involved, and it was never their fault when something of the many things that went wrong over the years.  These are people I would not recommend to be left alone with a sharp knife or even a pencil sharpener.  It also seems that at times the size of the brain decreases with the size/value of the boat.  And alcohol is a NO NO on the water even for passengers on my boat.  Remember if something bad happens, the skipper is the one who has to answer for it.  Take a boating class.  Take 2 boating classes.
It does not make a lot of difference if your intended trip is on a small lake or 20 miles out in the ocean,  if something bad is going to happen, life threatening situations can happen on either.  Just the odds for it being worse are not on your side out at open sea.  If you are heading out to sea, be darned sure you understand what you are getting into and your boat is seaworthy enough.  If this is a new adventure for you, bum a ride with someone who has been there more than a few times before, ask questions and BE VERY observant.   If you are dumb and happy, you can get into DEEP DO-DO very fast if you do the wrong things at the wrong time.   I am not really afraid of the water, but I do have a hell of a lot of respect for it.
While you are behind the wheel, be observant of all around you.  Never let your attention slip.  If you have any passengers onboard, have them be on the lookout for other boats, logs, floating debris, crab pot floats or anything that could create a problem.
Quite a proper name "Temporary Insanity II"
For boating, WIND (at least for a non sail-boater) is not your friend.  Check the marine weather forecast.  You may have to time your time on the water or your departure/return with the weather report and or the tide.
Make out a Float Plan and leave it with someone in case you do not show back at the scheduled time.  CLICK HERE  for a link to a Float Plan.
Check List ;  For those of us that do not get the opportunity to fish about year around, because we have other commitments, weather or what ever, before you drag the boat, motor and trailer out for the first trip of the year, or any trip later for that matter, it may be a good idea to go thru a check-list.    The first trip of the year will be the one that things sneak up on you and things can go wrong, like a seized steering system that you do not find out about until after you launch the boat, then have to paddle to the dock (against the wind).
Listed below is a suggested boating season starting list, which you can add to.   After the initial season trip, a mini check-list before every trip might be a good idea.
Boat Trailer:
Check trailer tire air pressure
Check trailer wheel bearings
Check the lug nuts for tightness
Check trailer lights
Check hitch latch
Check winch cable
Winch gear latched
Grease tongue jack stand
Boat tie downs
Brakes (if applicable)
Break away brake cable for electric brakes
Safety chains to towing vehicle
Safety chain to boat bow eye
Check, bunks or rollers
Lock the trailer hitch (get in a habit of padlocking it)
Boat:
Drain plug in
PFD (life vests)
Check electrolyte & recharge batteries
Check battery terminals for corrosion, nut tightness
Raise motors & latch up for towing
Check for frozen steering system
Check fuel quantity, oil reservoir & oil ratio if applicable
Bilge Pump operational ?
Lubricate the convertible top snaps if they have been exposed to salt water
Check windshield wiper blades
Check radio antennas
Check GPS antennas
Is compass in place & correct?
Did you replace the anchor & rope after you tethered the horse?
Convertible top secured if used during towing
Check functioning of your downriggers
Check horn
Check your fuel/water separator (drain/replace the canister)
Mooring lines
Bumpers
Tool box
Are your emergency signaling devices or flares current?
Motor :

Run motors with muffs the night before a outing
Spare spark plugs
Check lower unit oil
Spare ignition key
Spare prop
Remove prop & lube shaft splines
Prop removal tools
Check fuel line pump bulbs
If a 2 cycle is your oil reservoir tank full?
Trolling motor connector rod
Spare emergency starter rope
Towing Vehicle :

Check air in tires & spare
Check engine oil
Check coolant
Fuel tank full?
Trailer light connector wired OK
Spare key hid outside cab
Misc :

Check weather report
Tide book
Spare batteries for hand held GPS
Current fishing regulations
Insulated bait box
Tackle box
Rods
Landing net
Ice box
Ice
Rain gear
Polaroid Sunglasses
Fishing hat
Drinking water
Lunch box
Fishing license
Boat launch permit hang tag
Medication
Seasick pills
Navigation charts
Pliers/hook-out
Heavy duty plier/side cutters
Tool box
Life jackets
Throwable cushion
Fire extinguisher
Paddle
Fish bonker
Camera
Boat hook
Fish box
Spare drain plug
Downrigger tool box
Wash towel
Other Things to Consider ;
Before you drive off, check to see if you remembered to latch the trailer coupler latch.  Get in the habit of padlocking it, this is a reminder to actually lock it down.  This accomplishes two things, (1) it reminds you to latch it and (2) may keep someone from borrowing the trailer.
Padlocking the latch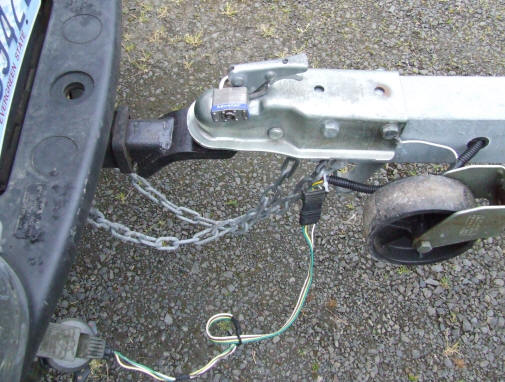 When towing your boat, stop occasionally and put your hand on the wheel hubs, they may be slightly warm, but if one is warmer than the others, there could be a problem.  Either the bearings are bad, need grease, or the brake shoes are dragging the drum if it has brakes.  Do the same with tires, if they are getting hot, you do not have enough air in them.
Kick the trailer frame in different locations.  This may sound dumb, but if something may be loose, you may just stumble onto it before the trailer falls apart on the road.
Also after you pull the boat out of the water and head home, drive a few miles, stop and pump saltwater resistant grease into the hubs if they are the grease lubricated type. This time interval will allow the hub to warm up, then accept grease better, allowing any accumulated water to be pushed out more readily.
Carry a spare trailer hub with bearings and a seal.  When doing wheel bearing maintenance, do not replace the double lip seal marine seal with a single lip one that the automotive people have.  They may not have any cross-reference to the marine double lip type.   Go to a boat shop and the price of $3.50 each is cheap compared to the price of replacing a complete hub, brakes, and possibly a spindle if you don't catch the bad bearing in time.
Copyright © 2002 – 2014 All Rights Reserved