The best PFD is the one you wear!
Mustang Survival is continually improving the design and performance of Personal Flotation Devices (PFDs) to encourage full-time use of PFDs. The result is a wide choice of PFDs to suit activities, water conditions and lifestyle. This Buyer's Guide provides information on flotation, PFD types, and tips for choosing a PFD, or lifejacket as they're commonly called.
Safety Requirements
The US Coast Guard's Federal Requirements state, "All recreational boats must carry one wearable PFD (Type I, II, II, or Type V) for each person aboard… [and that] any boat 16ft and longer (except canoes and kayaks) must also carry one throwable Type IV PFD."
PFDs should be Coast Guard approved and in good condition. They must also be the proper size for the intended user. State laws vary on PFD use, but units must be readily accessible in case of an emergency. In some states children must wear PFDs in certain sized boats or for specific boating activities. Furthermore, adults accompanying children should also wear PFDs at all times to immediately assist a child in an emergency situation. Federal, State, and local park authorities may also have regulations regarding PFDs in their waters.
Types of PFD Flotation
PFD flotation can be divided into two main categories. Inherently buoyant PFDs and Inflatable PFDs.
Inherently buoyant PFDs
These device's buoyancy is a result of the materials used, often foam panels. These PFDs come in all sizes and are for both swimmers and non-swimmers. Inherently buoyant PFDs were the mainstay for years for water sports and recreational boating. Improvements in design and features have made these PFDs more comfortable to wear.
Inflatable PFDs
Inflatable PFDs can be seen as the new generation of lifejackets. It must be worn to qualify as a PFD. These devices come in automatic or manual inflating models. Manual models are inflated by pulling a tab. They can also be blown up with an included tube if for some reason the tab doesn't operate properly. Automatic models are inflated via a C02 cartridge.
Inflation is generally triggered by a dissolving bobbin when it is immersed in water. They also can be activated manually by pulling the tab. Inflatables are less bulky than inherently buoyant PFDs because they are only inflated when an individual is in the water. A version with integrated sailing harness is also available.
Inflatable PFDs require minor maintenance to keep them ready for inflation when needed, and it is recommended to keep a spare C02 cylinder (and bobbin for automatic models) to re-arm your inflatable after use.
Five Types of PFDs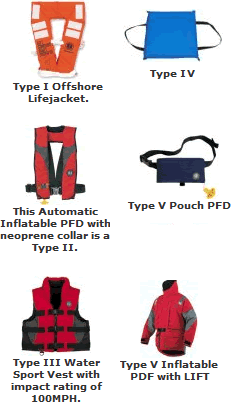 Type I PFDs, or offshore lifejackets, are the most buoyant PFDs and suitable for all water conditions, including rough or isolated water where rescue may be delayed. Although bulky in comparison to Type II and III PFDs, offshore jackets will turn most unconscious individuals to the face-up position. They range in sizes from adult to child.
Type II kids vest is designed for comfort. Type II PFDs, or near-shore buoyancy vests, are for calm and open water where a rescue will occur quickly. They are not designed for long periods in rough water. These vests will turn some, but not all, unconscious wearers face-up in the water. Some inflatable Type II models will turn wearers to the face-up position as well as a Type I PFD. This vest is less bulky than a Type I and often the least expensive of the PFD types. Type II PFDs are available in a variety of sizes.
Type III Water Sport Vest with impact rating of 100MPH. Type III PFDs, or flotation aids, are for calm and open water where a rescue will likely occur quickly. These PFDs are designed to keep the wearer in a vertical position. It is the wearer's responsibility to maneuver themselves into a face-up position, usually accomplished by tilting their head back. Type III inflatable models will keep unconscious wearers face-up as well as a Type II inherently buoyant vest. This PFD is not recommended for rough water conditions. These PFDs are the most comfortable to wear and popular for recreation boating and fishing. Type III PFDs come in various sizes from adult to child.
Type IV PFDs, or throwable devices, are for calm conditions where rescue will happen quickly. Not designed to be worn, these PFDs are tossed to a conscious person who can hold onto it for flotation until rescued. A square buoyant cushion, a life ring, or a horseshoe buoy, are some Type IV examples.
Type V Pouch PFD Type V PFDs are also referred to as special use devices. These devices are to be worn for specific activities as described on the unit's label. To be effective Type V PFDs must be used in accordance with the label's specifications. Many must be worn at all times in order to qualify as a PFD. A Type V's label will also list its performance as a Type I, II, or III PFD. A Type V PFD, like a full body survival suit, provides protection from hypothermia; however, these suits are best suited for cool climates as they can become quite warm in mild or hot weather.
The Inflatable Pouch (or Belt-Pack) PFD provides 35 lbs of buoyancy and is ideal for calm water. This product does require donning (passing your head through the collar once inflated) and is classified as a Type V PFD. The OCX Jacket with Inflatable LIFT PFD is classified as a Type V PFD special device. The integrated PFD was designed to provide extra safety and protection in extreme conditions. It provided 3 times the Freeboard (distance between the water and the users mouth) of a typical life jacket and radically reduces mouth immersions in higher wave conditions. This jacket is ideal for offshore power boating, fishing and sailing.
Selecting a PFD for Your Needs
"The best PFD is the one you wear," is a common water safety phrase. Begin selecting your PFD by reading the label and ensuring the device is U.S. Coast Guard approved for: your size and weight; the type of activities you'll be doing, and; the water you'll encounter. For some, this may mean having various PFDs for different situations. For example, an angler may have a Type III PFD for small inland lakes, and a Type I for larger water bodies.
Fitting Tips
The next important step in choosing a PFD is ensuring it fits properly and is comfortable. Try on several models with different amounts of clothing to gauge how the PFD will feel when worn at various times throughout the year. Adjustable straps will help you alter the fit for the amount of clothing you'll wear. Note that a PFD should fit snug; if it is too loose it will not provide proper flotation in the water. A common fitting procedure is to put on the PFD, and tighten all straps and close zippers. Next, raise your arms above your head and have someone try and lift the PFD up by the shoulders. The unit is not a proper fit if it is too loose. Signs of this are if the device freely moves and almost comes off, or if the main zipper touches your nose.
Choosing a Child PFD
Like sizing an adult PFD, the procedure is similar for a child. The vest should fit snug. To test the fit, tighten all straps and close zippers and then lift the child by holding the PFD's shoulders. The child's ears and neck should not slip though the head opening. It is also advisable that a child wear, at minimum, a Type II PFD.
Testing your PFD
Adult and child PFDs should also be water tested after purchase to ensure they're a proper fit. The advantage to testing a child's PFD is not only to ensure proper fit and flotation. It's an opportunity for your child to become comfortable with the device on in the water. Help your child get comfortable in the water and explain why they need to wear a PFD. This will help them remain calm in an emergency. It is also recommended to test your Inflatable PFD. Experience how it inflates when in the water and get familiar with re-arming it.
BE AWARE: Your PFD may not act the same in swift water or heavy seas as it does in calm water.
PFD Features
Features to look for in a PFD include brightly colored material as well as reflective tape so you can be easily seen on, and in, the water. Most PFDs today are made out of durable, water resistant materials, such as 200 or 400 denier nylon. Older models were often made of cotton or other slow-drying fabrics, resulting in mildew growing on damp PFDs. Some recent models have padded, fleece or neoprene-lined collars to provide extra comfort.
Large buckles and snaps make removing vests easier in damp or cool weather. Corrosion resistant and oversized zippers are also good features in a PFD. Pockets are also important. Handwarmer side pockets can help take the chill out of cold fingers, while chest, cargo, mesh or internal pockets are great to carry personal and functional items. Finally, a D-ring is added to attach a kill switch, or clip-on accessories, like a whistle or fishing line cutters.
The best practice is to regularly wear your PFD at all times when on or near water. This Buyer's Guide has provided some details on the types of PFDs available and selection tips, but the ultimate responsibility rests with you to properly select a PFD for your intended use. Safe boating!
Information above Courtesy of Mustang Survival Corp.