Tales of the Columbia River bar can be intimidating.   If it makes you stop & think, then think again, with respect for this kind of water, then maybe you have gained some insight as to what can and does happen.  This area around the mouth of the Columbia has been named "The Graveyard of the Pacific".  For a small boat, a 19'+  with a deep hull would probably be considered MINIMAL.   The well functioning "kicker", or auxiliary motor of some kind would be mandatory in my book.  If you watch the weather, time, the tides AND use sound judgment there should be able to cross the bar.  
Getting There : For this article we will use Illwaco as our departure point.  Illwaco has 2 launches, one double ramp along with a sling which are run by the port, then the other ramp at the Fort Canby State Park.  There is another launch and sling at Chinook on the Washington side, then Warrenton and Hammond on the Oregon shore are also used.   It just depends on where you are coming from.
Reciprocity Rules :  "When angling in the Pacific Ocean within 3 miles of the shore between Cape Falcon, Oregon and Leadbetter point, Washington, either a Washington or an Oregon fishing license is valid."
Boat Launches in the Area :  There are many launches on both the Washington and Oregon side of the river in this vicinity.  These fees may change.
Illwaco
Port of Illwaco, 165 Howerton Ave.
Illwaco, WA 98624 
360-642-3143

 

$5.00
Fort Canby
(Washington State Park)

 

Illwaco, WA 98624 
$5.00
Chinook:
Port of Chinook 1 Portland St.
Chinook, WA 98614 
360-777-8797

 

$5.00
Hammond:
Hammond Marina 1099 Iredale St.
Hammond, OR 97121
503-861-319
$5.00
with a parking fee of

   

$5.00
Warrenton:
Warrenton Marina 550 NE Harbor Pl.
Warrenton, OR 97146
503-861-3822
$5.00
harbormaster's cell 503-791-1925

  

Skipanon Marina

  

Skipanon Marina 200 NE Skipanon Drive
Warrenton, OR 97146
503-861-0362

 

$5.00
Youngs bay Yacht Club
Youngs Bay Park
Astoria, OR
503-325-7275
free
The launch at Illwaco is off the main road into town just after you drop down off the hill, take a left at the sign that says launching ramp.  If you miss that, then just go a few blocks to the stop light, turn left and the frontage road at the dock area, follow it back to the eastern end and then south around the boat basin to the launch on the south east side.  There is a nice new two lane ramp, also a sling, along with lots of paved parking.
For Fort Canby, you have to go east thru the town of Illwaco, at the stop light, west and south, then back east, winding thru the park then down to the ramp.  The State Parks is planning to improve this launch in the early summer of 2003.  The plans are to install a 3rd lane and to increase parking.
The Chinook launch is off Portland Street.  It has a new concrete ramp and a sling, but parking is limited with the overflow along the streets.  Also the dredged channel out of the Chinook harbor is narrow and somewhat winding on a LOW tide.  There may be small hemlock poles pushed into the edge of the channel.
Bait :  Bait is available at he Illwaco location which is on a dock that is close to the launch area.   If you are planning on picking fresh bait up at the dock, they open at 5:00AM.
The Chinook bait store location is on Portland Street as you head to the launch road. 
Weather :  At the start of the normal salmon seasons, (usually the end of June) the weather may still be somewhat unpredictable.   If you are a week-end sport fisherperson like most of us, you can expect to stay on the beach a few days because of bad weather.  As the season progresses, the weather tends to stabilize up to September or so, but the ocean salmon seasons are ended by then & the Buoy 10 season will be in full swing.
 Here it can be foggy all day offshore, but it will usually be clear during the regular salmon season on shore. 
 The wind if there is any, will be coming from offshore and usually from the northwest, but can vary to from the southwest.  If you are trolling, after the wind picks up in the afternoon, it can get hard to control the boat unless you put the wind on your stern.  The wind will, on many days pick up and be up to15 MPH about 1:00 to 2:00PM, then later in the evening around 7:00PM it will slow down again
 If the ocean is rough enough for the Coast Guard to close the bar during the regular salmon season, you might as well not even think about going fishing, as there are not many boat bottom fishing spots inside the jetties and the sturgeon season will be closed in the estuary by then.  The season east of #10 does not open for salmon until August 1.  About the only thing then is crabbing.  For further information go to "Reading the Weather, Bar & Ocean for a Small Boat".
 Heading Out : Leaving the Illwaco boat basin from the launch, you will have head westerly toward the cannery buildings.  Stay in the channel with Sand Island on your left.  You will pass the boat launch at Fort Canby State Park on your right.  There is a row of piling as a protective breakwater between the channel and the launch.  Slightly farther south you will pass the Coast Guard Station, which is on your right.  There is a sign here indicating NO WAKE as you pass their moored boats.  Follow the channel south and you will come to breakwater pilings as you enter the Columbia River itself.  If the tide and current are moving, you will have a turbulence here for a short distance.  You are now in the main river.   Make a right hand turn, head west out into the main river and toward the ocean. 
 The closest buoy will be #11, 46-15-75  124-02-15  on your right, head toward it.   From there, head southwesterly to buoy #10, 46-15-32    123-03-75.   Follow the red buoy line out, with #8 being your next pickup point.  If you are going to encounter any roughness it will be about this #8 buoy to beyond #6, 46-14-35  124-05-86 which is about a half a mile.  From #6 you want to head toward #4, but depending on the currents and roughness off the old submerged jetty, which has a buoy #2SJ, you may have to hold slightly outside of.  When you get beyond the old jetty turbulence, you then can head to the east side of #4.  You should be beyond any turbulence about half way to #4.  The distance from #6 to #4 is slightly less than another half a mile.  
 Do not try to cross the bar by following the "black", or north buoy line as it is shallower and can be quite a bit rougher.
 Crossing the Bar :   You have about a mile and half of bar condition waves to encounter.  So it may be best for the newcomer to follow another partner boat out and back in a few times to learn the tricks.  If you are new to this, and even many "old-timers" would rather go out on the early part of the high or flood tide, then slide back in  3-4 hours later.  The one thing that will get you in more trouble than any other thing is SPEED.  This is not a boat race, hold your speed down if it is rough, and then cut the throttle as you ride over the a crest so that you do not slam the boat into a trough on the backside of a crest.
 This river, like most rivers on the coast, you will need to be observant of the tides if operating a small boat.  Tidal exchange is the key to crossing any bar.  The experienced fishermen from here say the ideal time to cross is on high slack, or an hour or two each side of it.  However the time of this tide many times does not allow you as a fisherman, to cross on one high tide and come back on the next high tide 12 hrs later during daylight hours.
 The word from many who fish it regularly is to NOT to try to cross on a low, or ebb tide as there is quite a bit of turbulence.
 There is a formula that is used to calculate the amount of flow of a river flow at a bar.  It is called the "rule of 12".  This flow will be best described as:    For each our after the tide change the flow will be
The formula below is used to calculate the amount of river flow at a bar.  It is called the "rule of 12".  This flow will be best described as:

 

1st hour

after a tide change will have 1/12th of the flow

 

2nd hour

will be 2/12ths 

 

3rd hour

will be 3/12ths

 

4th hour

will be 3/12ths 

 

5th hour

will be 2/12ths 
 

6th hour

will be 1/12th
From this table you can see that the maximum flow will be the middle 2 hours of an exchange.  This equates to the bar being roughest at that time.  Wind conditions, on any tide, will extend these times. All else taken into consideration, he bar usually tends to not be as rough on the incoming tide
 The tide exchange will govern how rough the bar is going to be. The low tides will have one real low tide each day and the other low tide will be somewhat higher.  Look at the tide book and compare the difference between two tides closest to the time you intend to cross.  
 If any roughness is to be encountered, you will be able to see it better from inside looking out, as you can see the white water off the tops of the waves.  Coming back in, you are looking at the backs of these waves and can not see if there is any white water coming off the tops.  Therefore the water looks calmer when you are outside looking in.
 Heading Back From Outside :  You can visually run back the red (south) buoy line, if you are close to it.   Watching your water depth can also be a help because this region has no drop-offs, just a slight slope to the bottom until you get way out.   Water depths at #4 and #6 are about 50' with 90' or so at #2, and 200′ at "CR".  
 Crossing The Bar Coming Back In :  This will be pretty much like going out, with the exception you will usually be riding in on a wave instead of heading into it.  The situation can also be different if there is a tide and or wind involved where you will have to quarter the wave.  You can be riding the back of a wave like a surfboarder but on the back side.  It will run out from under you and the next one will have you surfboarding, many times at a angle.  You will then have to straighten up the boat so that when you are being pushed into the trough of the next wave you are going straight with the wave.  You do not want to be in the bottom of the trough at an angle.  The most common thought seems to be "The boat will straighten up soon".  WRONG, you will need to power down somewhat.  With the normal wave conditions here, you will normally be tipped to the starboard, your response should be to sharply steer to the starboard under mostly full power, so your stern is at a 90 degree angle with the oncoming wave. As soon as it passes under you, straighten out and get back on your heading again.  Some boaters will get on the backside and have enough power to stay there & ride it all the way across.  This can work, is a very smooth ride, but be aware that IF something goes wrong, it will happen VERY FAST, as these waves are usually doing in excess of 30 MPH.
 GPS/ Plotter :   You should not even think about going out here without a GPS if you are the average week-end sport fisherperson.  Acquire a GPS, learn how to use it and put in some locations to come home to.  Here it can be foggy all day offshore, but will usually be clear during the regular salmon season on shore.
 Backtrack your red buoy line going out
 Salmon Closure : There isa salmon closure at the mouth of the river called the Control Zone 1.  This basically is all waters west of Buoy 10, between the north & south jetties, and inside of buoys #4 and #7.  Refer to the WDFW regulations.

A Chinook for the Bar-B-Que, taken on a downrigger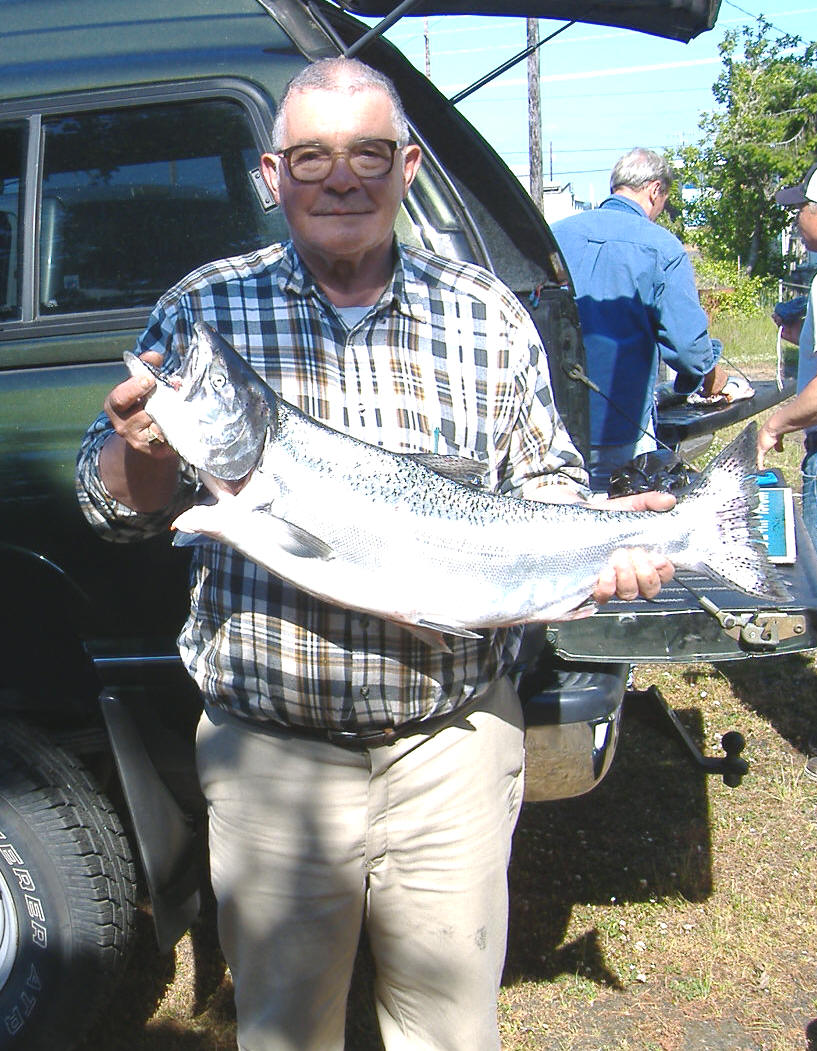 Salmon Locations :  The bulk of the salmon near the mouth will probably be Columbia River fish, with a few heading farther south.  But many of the Oregon salmon  south of the Columbia are Left Turning fish and they head south when they leave the rivers 2 or 3 years prior to returning. Any salmon will concentrate where the bait is, the best fishing will be where you find shrimp, which the herring will be feeding on.  The salmon will be feeding on both.
 A smart fisherperson may, when you catch the first salmon, cut its stomach open to see what it has been feeding on and try to match your bait to these stomach contents.
 Many times, Chinook salmon can be found south of buoy #4 and farther south along the red buoy line. Don't just run offshore because your buddy said that is where he caught his last weekend.  Stop in and at least take a look or make a pass along the south buoy line before you make a long run to open water.  If you see groups of whale birds sitting and diving, it may prove beneficial to stop, then make a pass or two near them.
 With the fish in the top part of the water column, you will probably not be able to see them on your fishfinder.
 Fish may be found where ever the bait is and straight west to 200' can be productive.  Most of the salmon fishing here however will be southwest of the mouth.  Follow the south "red" buoy line out.  There is no #2 buoy, and farther southwest is the "CR" or Columbia River buoy, 46-10-84  124-01-50, in about 200' of water.  The bulk of the salmon fishing will be from #4 to this old lightship buoy, or in that general area.
 You will find the Coho from right on top to down 15-30', however we have pulled some at 130'later in the day.  The Chinook will also be in the top water column if early in the morning or it is foggy.   It would not be uncommon to catch them on a diver with from 20 to 30 pulls out.  A pull is the distance from the reel face to the rod's first guide, or about 2 feet.  Later if or when the sun comes out the Chinook may decide to move down to from 50' to the 100' level.
 Gear/Tackle :  About any salmon tackle can be used here, depending on your method.  8'6" to 9' medium fiberglass rods are the common size.  Mooching was the method used by the charter boats to bring Westport to be the "Salmon Capitol of the World" in the 1950 and 60's.  The Columbia River charter boats soon followed the lead.  This method consists of using a 2 to 6 ounce (4 being the common size, kidney sinker tied to the terminal end of 25# monofilament mainline, and 6′ monofilament leader with a double hook, 3/0 4/0 mooching tie.  These mooching leaders are usually 25# test and can be tied as a sold or a slip tie. 
 The slip tied ones are usually used if you are using whole herring for bait.  You can then thread the hooks into the bait and pull the rear one forward to put a bend in the bait to give it the proper roll.
 The solid tie leader is usually used if using a "cut plug" herring, as the angle on the bait gives the rolling action.
 Later the Columbia River charter fleet devised their own method of fishing, by using a Delta diver in stead of a mooching sinker.  With all fisherpersons setting their gear at the same depth, these divers are effective by creating the impression of s school of bairfish AND do keep everyone from tangling IF they follow instructions as to the depth they are to drop down to.
 In the past 10  to 15 years, trolling with downriggers is probably the most popular with the average trailered sport boat.  A 8' 6" downrigger rod is used here.  They are a heavier but section up to about ½ way, with the tip a little stiffer than the mooching rods.  These rods take a lot of strain when being pulled down against the clip on the wire.  Ball weight will be from 12# to 15#.  The ball depth will change depending on the specie of salmon targeted, and can range from 20′ to 150′.  For Chinook, you may start out in the early morning or overcast days by only dropping it to 30′.  However the usual target depth will be from 50′ to 70′.  Later in the day you will probably have to go to 100′ to 120′.
 Bait can be cut plug herring, or herring in a bonnet, behind a Hot Spot flasher or a Fish Flash.  These attractor colors will usually be green/glo for the Hot Spot, or quilted chrome, green, blue if for Chinook.  You may change to red, if for Coho.  Those who prefer to drag hardware will usually add behind the attractor, Coyote spoons in green/white glo, Cop Car, or Army Truck colors in 3.5″ and 4″ sizes.  Apex plugs in chrome, mother of pearl, chrome/blue or Army Truck colors do very well in sizes 4.5″ or 5.5″.  The newer Brads Super Cut Plug lures are proving their effectiveness .  Of course you should add some Smelly Jelly in either herring or anchovy.

 Scent:  Of course you should add some Smelly Jelly in either herring or anchovy.   Recently there has been a new twist for scent.  That is "Salmon Scenter" designed by Salmon University.  Originally this is a PVC receptacle that you place special nuggets inside and then snap it to your downrigger ball.  The latest version is a nylon mesh bag pre-filled with the scent nuggets, with a snap attached to the bag.  This lays a scent trail better than smelly jelly can do. I have found that it seems to work best for hatchery Coho.

 Bottomfish Locations:  There are not any islands, very few uncharted rock reefs, and no kelp beds to attract bottom fish in this area.  Some fishermen will bottomfish inside the South Jetty, or some of them will go out and then pull in behind and south (outside) the South Jetty, and fish for sea bass & lingcod.
 The main bottomfish location is usually south quite a ways and off Cannon Beach, Oregon, near the rock piles around Tillamook Head and south to Haystack Rock.

 Crabbing Locations:   There is one thing to consider here if crabbing in the river, is that you need plenty of pot weights and lots of line out, as the currents will pull a single pot float under if you drop it off on a low tide and come back to pick it up on a high tide that has lots of exchange.  You will come back and swear that someone has stolen your pot.  But the float is just under water.  You might have to come back next weekend at a low tide to try to retrieve it. However with the tidal currents, it may have been pushed even a couple hundred yards.
 One old standby crabbing spot used is the inside of Baker Bay, behind Sand Island and north of the Chinook breakwater piling.  The entrance here is between breakwater pilings #1 and #3.  If can be shallow here at a low tide.
 I would rather drop my pots in a more secluded place where everyone else doesn't travel.  But remember this river runs FAST and with a lot of FLOW, so pick your location carefully.
 It has been mentioned to me by a RV business owner, that the pots with staffs and flags seem to stand out better, but will be the ones pulled first by pot thieves.  What they do when they pull your pot, they pull the line over one side of their boat and drop the float on the other side.  They then handline the pot line up and over their boat, when the pot comes up they grab what they want, then drop it back in the water.  If you knew exactly where you dropped the pot and you find it moved about 100 yards, it is a pretty sure bet that it was pulled by one of these thieves, as that distance is about what it takes if the current or tide is moving them.
Copyright © 2004  – 2013 All Rights Reserved