Pacific Salmon Basics : Before we get started here, let me explain the life cycle of all Pacific Anadromous Salmon. For those interested, the definition of anadromous, is a fish that are born in freshwater, migrate to the ocean to grow and mature, and return to freshwater as adults to reproduce.
They are born from eggs laid by the female which may be from 2,000 to 16,000 eggs per fish, in gravel of a stream and fertilized by the male fish. The eggs will be laid in a "home" stream or river. Or by using weirs to trap returning spawning fish to fish hatcheries, the eggs and sperm gathered from the fish, then raised in fish hatcheries until being released to go on their own like their stream raised counterparts. Salmon's life cycle can be from 2 to 5 years depending on the specie. The young fish will spend from 1 month to 2 years in freshwater (depending on the specie) before they enter the saltwater. Upon entering saltwater, if from northern Oregon and Washington, they turn RIGHT (North) and head to Canadian/Alaskan waters to feed on krill, herring/anchovy. Here they stay until they get the urge to re-propagate the specie.
It is thought that salmon navigate by magnetic current for their long journey, and then as they get closer to their home stream where they can detect the smell of the water they were hatched and imprinted in, to follow it home and spawn 2 to 5 years later. Upon entering the home waters and both the male and females are "ripe" the spawning process starts over again. These spawned out fish die, which provide food for young fish either by their own carcasses, or bugs that have eaten the carcass and are in the water after the carcass has decomposed. Pacific Anadromous Salmon do not live forever like some other fish specie.
Steelhead are actually a sea going Rainbow trout that can survive spawning, return to the saltwater for a year or so and return later to re-spawn.
With the above time frame in place, you can see that trying to fish in a coastal river for salmon from January to July would be simply wasting your time as you need to fish for salmon when the salmon are there. Ocean salmon fishing could be prior to the coastal river fishing by a couple of months as they will be moving down the coast from Alaska and Canada.
The Chehalis Watershed : The J-shaped Chehalis River Basin is the state's second-largest, behind the Columbia River. It exists primarily in Lewis and Grays Harbor counties, but also flows through a section of South Thurston County's Independence Valley and the Chehalis Indian Reservation.
This river's headwaters (the East Fork and West Fork) above the town of Pe Ell, then downriver straightens out in an east-west configuration at the communities of Doty, Dryad and Meskill then is joined by the South Fork which drains the Boistfort Valley. One of the South Fork's main tributaries is Stillman Creek. The out-flowing main river makes a sharp northerly turn through the Chehalis and Centralia areas, then heads west toward Rochester, Elma and Aberdeen, where it dumps into Grays Harbor which empties into the Pacific Ocean at Westport.
This will be an overview of how the State of Washington fishing seasons are set, where we will use the Chehalis River and Willapa River system as an example. The reason for using the two is that there are some differences that effect management decisions which I will explain later on. If time permits the Columbia River (another can of worms) may also be covered here.
The Washington Department of Fish & Wildlife (WDFW) is bound by fish management directives from the Fish & Wildlife Commission.
In May 1999, a group of leading scientists issued a report to Congress saying that hatcheries have the potential to make a major, positive impact on the conservation of wild salmon and steelhead, in just a few years and at relatively small cost.
In response, Congress created and funded the Puget Sound and Coastal Washington Hatchery Reform Project, a groundbreaking, science-driven effort to rethink how hatcheries can be managed to help conserve naturally spawning populations and support sustainable fisheries while not forgetting our wild stocks.
Congress established the Hatchery Scientific Review Group (HSRG), an independent panel of nine highly regarded scientists, as the heart of the reform effort.
Completed in 2005, the project resulted in over 1,000 recommendations for programmatic changes. Learn more by visiting the project website http://hatcheryreform.us/hrp/welcome_show.action
Their focus appeared to be to direct management of the fisheries in a manner to recover certain identified endangered wild stock specie. These endangered specie would usually be from a certain watershed drainage or even multiple drainages. Their efforts also focused on hatchery facilities and management.
As years pass, many sportspersons question how this group of educated persons could really understand all the complexities and intertwining problems of each geographic location and it's interaction with a local hatchery. And we are now stuck with a system which in certain circumstances may be self defeating. It is hoped that these findings and adoption by the Fish & Wildlife Commission can re reviewed from time to time and updated if need be.
Paper fish are just that, and many times paper fish are just a SWAG. But once that number is on paper, it is about impossible to alter it because those that established/did the survey are either totally indoctrinated or want to put in enough time with a government agency to draw a retirement and will not admit there may be even a slight chance of error. Paper fish may not pencil out into swimming fish. Have you heard of the term "Unintended consequences of well intended acts"?
If you really get involved, you begin to wonder just how much science is involved here in predicting returning salmon runs to home streams. Yes there are general methods to help determine this, but for a river system such as the Chehalis that has only one operational Chinook hatchery, so then just how accurate are the fly overs counting reds, stream bank observations or even smolt trap collections? Then throw in tribal netting, commercial netting, flooding and possible poaching. Then once these fish get above tidewater, the recreational fisher has very little impact because of available fishable water.
This group presented their findings to the Fish & Wildlife Commission, which adopted a policy as listed below. This new plan is set for 50 years.
Fish and Wildlife Commission
Commission Policy Documents
POLICY DECISION
POLICY TITLE: 2011-2012 North of Falcon POLICY NUMBER: POL-C3608
Supersedes: C-3608, 2009-2010 Effective Date: February 4, 2011 Termination Date: December 31, 2012
See Also: POL C-3001 Approved by: /s/ Miranda Wecker, Fish and Wildlife Commission Chair
DOWNLOAD: Signed copy of POL-C3608 (PDF)
North of Falcon Policy
This Policy will guide Department staff in considering conservation, allocation, in-season management, and monitoring issues associated with the annual, salmon fishery planning process known as "North of Falcon". When considering management issues, Department staff will ensure that decisions are made consistent with the Department's statutory authority, U.S. v. Washington, U.S. v. Oregon, the Endangered Species Act, the Puget Sound Chinook Harvest Management Plan, the Pacific Salmon Treaty, the Pacific Fishery Management Council's Framework Salmon Management Plan, pertinent state/tribal agreements, and the applicable Fish and Wildlife Commission policies.
The Department will implement this Policy consistent with the purposes and intended outcomes described in the 21st Century Salmon and Steelhead Planning Project including:
•WDFW shall manage salmon and steelhead to recovery and sustainability in a way that is science-based, well-documented, transparent, well-communicated, and accountable.
•Fisheries are managed to meet or exceed ESA, recovery, and conservation goals; and harvest management measures protect and promote the long-term well-being of the commercial and recreational fisheries.
Fishery Management
General
•On a statewide basis, fishing opportunities will be provided when they can be directed at healthy wild and hatchery stocks.
•Selective fishing methods and gears that maximize fishing opportunity and minimize impacts on depressed stocks will be utilized to the fullest extent possible within legal constraints of implementation and budgetary limits associated with required sampling, monitoring and enforcement programs.
•When assessed from a statewide perspective, fishing directed at chinook, coho, pink, sockeye, or chum salmon will not be exclusively reserved for either sport or commercial users.
•When managing sport fisheries, meaningful recreational fishing opportunities will be distributed equitably across fishing areas and reflect the diverse interests of fishers, including retention and catch and release fisheries.
•The Department will seek non-treaty fishing access to unutilized portions of treaty harvest allocations through the implementation of pre-season agreements, taking into consideration changes in abundance, fishery conflicts, and factors that may influence attainment of spawning escapement objectives.
Sockeye, Chum, and Pink Salmon
•For fisheries directed at Fraser River origin chum, pink, and sockeye stocks, the majority of harvest will be provided to the commercial fisheries.
•For fisheries directed at harvestable Puget Sound origin chum stocks, the majority of harvest will be provided to the commercial fisheries.
•For fisheries directed at Lake Washington sockeye, the first 200,000 non-treaty harvest will be provided to recreational fishers. If the allowable non-treaty harvest is greater than 200,000, commercial harvest directed at this stock may be considered.
•For fisheries directed at harvestable Puget Sound origin pink salmon, seasons will be established that provide meaningful opportunities for both recreational and commercial fisheries while minimizing gear and other fishery conflicts.
Chinook and Coho Salmon
•The Puget Sound harvest management objectives for chinook and coho stocks, in priority order, are to (1) provide meaningful recreational fishing opportunities, and (2) identify and provide opportunities for commercial harvest. When managing sport fisheries in this region, recreational opportunities will be distributed equitably across fishing areas, considering factors such as the: uniqueness of each area, the availability of opportunities for various species in each area throughout the season, desire to provide high levels of total recreational opportunity, and biological impacts.
•Grays Harbor harvest management objectives shall include opportunities for both the recreational and commercial fisheries.
•Columbia River harvest management regimes shall be developed in cooperation with Oregon Department of Fish and Wildlife representatives. Commercial and recreational fishing opportunity will be scheduled to optimize the non-treaty harvest of chinook and coho and to provide a balanced opportunity to each fleet. When developing recreational and commercial fishing options, the Department shall consider fair and reasonable catch opportunity, stability and duration of fisheries, as well as sharing of the conservation responsibility.
•Willapa Bay harvest management shall be consistent with Willapa Bay Framework management objectives. The following general intent shall apply: Willapa Bay harvest management objectives shall include meaningful opportunities for both recreational and commercial fisheries.
•Pacific Ocean harvest shall be managed consistent with the Pacific Fishery Management Council's Framework Salmon Management Plan and the National Standards that provide for fair and equitable allocation of fishing privileges among various fishers.
In-Season Management
•When in-season management actions are taken, they will be implemented in a manner that is consistent with pre-season conservation and harvest management objectives, and the fishery intent developed through the North of Falcon process.
Monitoring, Sampling and Enforcement
•Monitoring, sampling and enforcement programs will be provided to account for species and population impacts of all fisheries and to ensure compliance with state regulations.
•Fishery participants will be required to comply with fishery monitoring and evaluation programs designed to account for species and population impacts.
Gear and Fishery Conflicts
•Recreational and commercial fisheries shall be structured to minimize gear and other fishery conflicts. Unanticipated fishery interaction issues identified in-season, including conflicts with fisheries directed at other species, shall be resolved by involving the appropriate sport and commercial representatives in a dispute resolution process managed by Department staff.
Incidental Mortalities
•The Department will manage fisheries to minimize mortalities on non-target species (e.g. rockfish, sea birds, etc.). Management regimes will include strategies to limit seabird mortalities consistent with the federal Migratory Bird Treaty Act.
Communications
•The Department shall strive to make ongoing improvements for effective public involvement during the North of Falcon planning process and annual salmon fishery implementation, incorporating the following intents:
– include North of Falcon participants as observers during appropriate state/tribal discussions of fishery issues.
– maintain a record of all decisions made during the North of Falcon process.
– use a variety of tools to effectively communicate with the public, receiving input on pre-season planning or in-season fishery issues, and making available the record of decisions; such tools will include use of recreational and commercial advisory groups, public workshops addressing key issues, the WDFW North of Falcon Web site, and in-season tele-conferencing.
Other Species
•The Fish and Wildlife Commission's policy on Lower Columbia Sturgeon Management (POL-C3001) shall guide pre-season and in-season planning of Columbia River and coastal sturgeon fisheries and related incidental impacts. Management of Willapa Bay sturgeon fisheries will be further guided by Willapa Bay Framework management objectives.
Delegation of Authority
The Fish and Wildlife Commission delegates the authority to the Director to make harvest agreements with Northwest treaty tribes and other governmental agencies, and adopt permanent and emergency regulations resulting from the agreements made during the annual North of Falcon process.
Adopted Feb. 4. 2011
The Boldt Decision ; WDFW is empowered to provide fishing for both recreational and commercial fishers. Then the Boldt Decision that came in 1974, whereby a Federal Judge granted the recognized treaty Indian tribes 50% of all fish that may be taken in the tribes usual AND accustomed areas. Now split those numbers by another 50% which are shared between the recreational and commercial fishers. Then on the Chehalis River since the Oakville tribe is not a treaty tribe, their 12.5% share comes out of the recreational quota (fathom that one).
On February 12, 1974, Federal Judge George Boldt (1903-1984) issues an historic ruling reaffirming the rights of Washington's Indian tribes to fish in accustomed places. The "Boldt Decision" allocates 50 percent of the annual catch to treaty tribes, which enrages other fishermen. At the same time Judge Boldt denies landless tribes — among them the Samish, Snoqualmie, Steilacoom, and Duwamish — federal recognition and treaty rights.
Western Washington tribes had been assured the right to fish at "usual and accustomed grounds and stations" by Federal treaties signed in 1854 and 1855, but during the next 50 years Euro-American immigrants — armed with larger boats, modern technology, and the regulatory muscle of the state — gradually displaced them. The campaign to reassert Native American fishing rights began in 1964 with "fish-ins" on the Puyallup River led by Robert Satiacum and Billy Frank, who defied Washington state attempts to regulate their fishing.
Commercial and sport fishing groups submitted friend-of-the-court briefs opposing treaty fishing rights.
This 1970 filing of U.S. v. Washington followed by nine days the arrest in Tacoma of 60 persons (Native Americans and their supporters) who failed to disperse during a fish-in on the Puyallup River. The trial began on August 27, 1973. Judge Boldt held court six days a week including on the Labor Day holiday. Forty-nine experts and tribal members testified.
Judge Boldt finally held that the government's promise to secure the fisheries for the tribes was central to the treaty-making process and that the tribes had an original right to the fish, which they extended to white settlers. It was not up to the state to tell the tribes how to manage something that had always belonged to them. Judge Boldt ordered the state to take action to limit fishing by non-Indians.
The Boldt Decision revolutionized the state fisheries industry and led to violent clashes between tribal and non-tribal fishermen and regulators. In 1975, the Ninth Circuit Court of Appeals upheld Boldt's ruling, and on July 2, 1979, the U.S. Supreme Court largely affirmed it. Principles established by the Boldt Decision have since been applied to other resources, including shellfish.
The Chehalis River from the mouth to near Elma is claimed by the Quinault Nation as their "usual and accustomed waters". WDFW and the treaty tribes are supposed to manage the fishery with the tribes in a co-management situation. However the Quinault tribe consistently seems to not report accurate numbers of fish taken which then gets into a finger pointing situation as to which side believes who. And the Quinaults seem to fish at times for one specie, but are really after a different specie such as by-catch, like sturgeon. They also will schedule "Makeup Days" when the river is out of shape, or any conflict with WDFW scheduled not treaty commercial fishing days.
So, during the peak of the salmon run, it is hard for many returning fall salmon to navigate past the non-tribal gill nets low down in the system, the tribal gill nets farther upstream and the few that are taken downstream by the recreationals to allow many fish to reach any upstream spawning water, much less to provide for a meaningful recreational freshwater season UNLESS a heavy rain and resulting high water enough to necessitate the tribal nets being pulled so they are not damaged or swept away in the flood.
Chehalis River Quinault Tribal Gillnetting Schedule 2011 This posted on the Quinault Tribal web site.
Noon Sunday Oct 2 to Noon Tuesday Oct 4
Noon Sunday Oct 9 to Noon Tuesday Oct 11
Noon Thursday Oct 13 to Noon Saturday Oct 15
Noon Wednesday Oct 19 to Noon Saturday Oct 22
Noon Sunday Nov 6 to Noon Wednesday Nov 9
Noon Sunday Nov 13 to Noon Friday Nov 18
And then at times they add days if the weather seems to be bad. It would be nice if the recreationals could get makeup days.
Wild / Natural Fish : Most of us understand the term "WILD", when pertaining to salmon, but under these circumstances, it can get convoluted. The term "Natural" (which has been explained as fish that are the offspring of parents that naturally spawned in the gravel, no matter whether the parents were "wild" or of hatchery origin) so the term "natural" sneaks in here at times. And to be honest, there are probably not any genetics of WILD fish around anymore.
The situation is that we have had hatcheries around for so long, and because of past hatchery practices, eggs, or hatchery raised smolts have been transferred into other watersheds where that population was declining. So there may not really be any wild stocks around anymore, since the possibility of any returning wild fish mating with returning excess hatchery fish. It would be about impossible to be able to distinguish one fish from the other, (much less have any wild genetic base sampling available) especially after 15 or 20 generations.
Therefore with this happening over a number of years, the word "Wild" is meaningless and in reality, there are probably very few, if any "Wild" fish anymore.
And with modern directives, hatchery managers can not allow many of the returning "hatchery" salmon to pass upstream to spawn. "All hatchery fish must die" seems to be the order of the day. There is some limited integrated hatchery spawning in certain river systems. But most surplus must be given to food banks, sold for cat food or recently used for nutrient enhancement, (throwing some dead carcasses back in the water).
Currently it is a NO-NO to transfer fish of one origin into another watershed.
Hatchery Fish : There have been salmon hatcheries around for many years (1895), trying to supplement or augment a declining run originally because of commercial overharvest on the Columbia River. There are also hatcheries that are used as a mitigation tool to supplement the damage a dam has done to upper spawning areas and or without fish ladders that may have caused damage to a existing salmon run in a particular river.
Method of Identifying Hatchery Fish ; To achieve the established Commission goal, all hatchery fish that are now released will have the adipose fin clipped. This is a small fin just in front of the tail on the fish's body. With this fin missing, fishermen, (both recreational and commercial) can tell at a glance if it is a wild (natural) fish compared to a hatchery fish that is missing this fin, before it is removed from the water. Under most circumstances, our regulations allow us to only retain hatchery salmon/steelhead. Using this fin clipping, we can be still fishing instead of being shut down because of not being able to distinguish natural from hatchery fish.
These unclipped fish, could be declared to be a specie situated in a area & listed on the Endangered Specie Act (ESA) whereby they would have to be released before removing from the water unharmed. The reason I say COULD be declared an ESA listed fish is that IF the recovery is progressing as proposed, then somewhere down the road if these endangered fish runs become vibrant enough, then a percentage or all designated as a harvestable number could be harvested.
Within this plan, there seems to be little concern for non-food fish (steelhead) which are present in the same waters as the food-fish, but are listed as a sports fish not supposed to be sold commercially by non-tribal commercial fishermen.
Removed adipose fin (hatchery salmon) on top &
a intact adipose fin (wild salmon) on bottom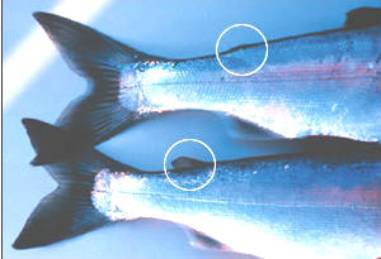 Endangered Fish : Here the Federal Government steps in under ESA (the Endangered Species Act) and determines whether the wild run in a particular river or watershed may have become depleted, or about to be, to where the Feds dictate that this run needs to be protected until such time that it has recovered. When this happens, a time frame for rebuilding is established. A large river system may have many separate runs and possibly not all are endangered. With the hatchery fish also in the system, this complicates a viable fishery on one or more stock while protecting an endangered stock.
Here is where the adipose fin-clipped hatchery fish enter the situation. With the hatchery clipped fish, fishermen can differentiate between the unclipped wild/natural and the clipped hatchery fish. These fish can be mixed together, swimming in the ocean/river at any given time. In order to provide a fishery by ESA law, the fishermen will have to return the natural (unclipped) fish back into the water unharmed. In most instances these fish can not legally be removed from the water, but have to be released while still in the water and in a timely manner as to reduce any possible mortality resulting from being caught.
Hooking / Netting Mortality ; This leads into hooking mortality where there is a percentage factored into the catch rate whereby a percentage of the released will result in a mortality of those fish. This being meant to mean any time a live fish is caught by sports or commercial methods, there is the possibility of a percentage of those fish not surviving after being released. Percentages for each method can vary depending on the gear, time of the year (water temperature) and expertise of the fisherman in this release.
When the number of one specie of fish available may be considerable, but if the release mortality reaches the estimated ceiling for that specie, then the season will be closed for all species in that area because of the possible increased encounter rate of the targeted or non targeted specie.
For recreational fishers, methods of fishing (lure type, bait restriction) can be implemented, or timing (dates set by WDFW to be allowed to fish in relationship to when other fish may be there). This could be restricting fishing in certain areas early in the season when the chance of lack of rain and the migrating fish may become stacked in a area waiting for rain which will spark them to move upriver.
Normal mortality percentage for recreational fishers is less than 10% while the commercial gill netters using a 9″ mesh net has been set as high as 45%. Gill nets are designed to be the size that the normally expected size of fish will allow them to get their heads and gills into the mesh, where they can not back out. This chokes the fish, by not allowing them to open/close their gills, which is breathing to humans. When using a smaller 4 1/4″ mesh net, designed for smaller fish the established mortality can be as low as 14.7%. These smaller mesh nets are called "Tangle Nets" because they go not gill the fish, but tangle their teeth in the net. They do fight more trying to get free, which stresses them highly IF the fish is a wild fish that has to be released. However these mortalities will also depend on water temperature (warmer fall season water means higher mortalities).
Now enter the situation where there can be a number of seals in the area looking for dinner. These "released" stressed wild fish are easy pickings for the seals.
For commercial gill netters net mesh size can be a qualifier. A 9" mesh size (measured diagonally when you pull each opposing knots) will normally catch only the larger Chinook salmon while letting the smaller Coho to swim thru. This applies to both salmon and steelhead. However this presents another problem. If you harvest all of the larger fish, only leaving the smaller fish to return to spawn, you will get smaller genetics and the final result will be smaller fish. However WDFW wants DIVERSITY in the spawning makeup. Guess what that means. They even spawn some of the jacks (male salmon that get the urge to return one year early) which are small fish. A beef or dairy farmer has learned to not breed the runts if he wants to retain good genetics.
Also as per regulations, the gill nets can only be deployed from the time they are started to being let out to the time they have been retrieved to 45 minutes. This "soak time" is to cut down on fish being in a net for hours, resulting in a dead fish. As gill nets are just that, the are used in certain sizes for each fish specie and allow the fish to enter the net head first, but the fish's body being larger than the head gets wedged into the net opening, usually just behind the gill cover. The fish needs for the gill cover to open and close which forces water over the fish's gills allowing them to "breathe". If the gill covers are held open or closed, the fish will suffocate.
WDFW at times will allow "Tangle Nets' which is 4 1/4" mesh. This measurement is taken by pulling the net from opposing corners and measuring the now tight distance. Netters say these smaller mesh nets do not do as much damage, merely tangling the fish's teeth, not choking them by holding the gills closed, suffocating the fish. This mortality is set at 14.7%, however mortality can vary greatly depending on the water temperature. Colder water (42-45 degrees) is better on recovery whereas warmer (55-60 degrees) can lead to infection getting into the sores created by the nets as the fish fight to get loose.
Also for gill netters, if the season is set so they have to release natural fish, and any of these that are encountered in the nets that are lethargic or bleeding, these boats have to be outfitted with live boxes large enough to handle any fish encountered. These are boxes that can be connected to water pumps which circulate water thru these boxes at a specific rate. The purpose is to give any of these natural fish that may need time to recover before being released. Needless to say this is not magic water.
Here a live box is attached to the gunwale of a Gillnet boat.  Note the plastic inlet water lines to which a external water pump is attached.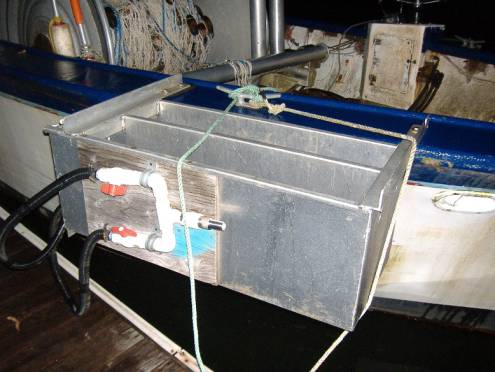 Then you place NUMEROUS gill nets spaced across a river, even if a netted wild fish was placed in a live box and revived, then released, what is its chance of it totally escaping the other 20 or even 120 nets that it may encounter on its way upriver above the first net?
Commercial salmon purse seiners recovery rate is very low because in this type of fishery a large net of small mesh is laid in the water by a smaller boat that then encircle the fish. The net is then pulled in toward the mother ship and as it gets close, the bottom of the net is pulled tight like a purse. The net is then pulled in enough so there is only a smaller purse alongside the mother ship where each fish is then dip netted out of the purse area. Here the fish are "brailed" (individually sorted) and the unclipped salmon can be released back into the water to continue their journey on to the spawning grounds, only retaining the clipped hatchery fish.
Here a  WDFW test seine fishery is being conducted on the Columbia River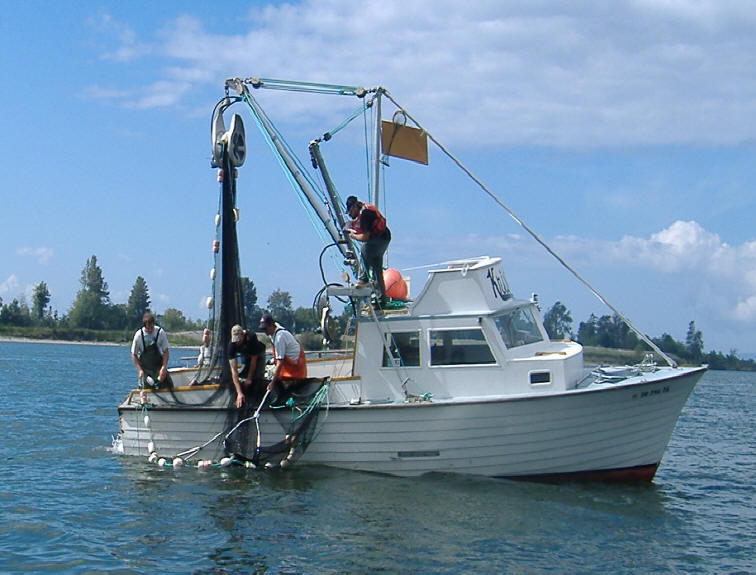 Restrict Fish to the Spawning Grounds ; WDFW personnel also have to abide by not allowing "Excess" hatchery spawners to escape or be allowed to bypass a hatchery and spawn with "wild" fish. A survey conducted by some biologists in Oregon a few years ago concluded that hatchery Steelhead are inferior when they spawn in the wild with their offspring's survival rate is not as good as wild spawners. They concluded that there is a need to restrict these excess spawners so that these rejects do not compete for food from the "wild" stock fish.
However this was conducted on Steelhead, not salmon, so how much of a parallel do these two fish travel in?
Yes, we all know surveys can be inconsistent depending on a lot of factors, but this one has some biologist believing it, right or wrong. Many argue that if a hatchery fish made it all the way to the ocean as a out-migrating smolt, then into Alaskan waters for from 2 to 5 years that there is not really much difference if they make it back to their home river to spawn.
Also in the mix with these excess upstream dead fish not being there, their carcasses are now missing as Nutrient Enhancement (food) for the small fish after they are hatched and enter the water. This NE does not mean that the little fish only eat their parents carcasses, but that as the carcass decays, bugs and other living things consume the flesh, which in turn provides food for the young fish over the time they stay in that area.
Logging Practices ; Then add in any possible bad logging practices, like logging across streams, creating silt/mud that can smother the eggs/young fish, etc. etc. Or plugged culverts, or impassable areas that fish can not navigate. However it seems that the loggers have been overly restricted, and probably because of state agencies have the ability to place restrictions on them. Some of which may have gone way beyond the actual needs of the fish.
Department of Natural Resources has MANY restrictive rule that loggers have to abide by, one of which is that no trees can be cut along a stream (no matter how small) within a specified distance. This is supposed to shade the water, decreasing the water temperature in the summer time. However there seems to be little forethought on some of these. For one, if this is a stand of thick timber, when the surrounding trees are removed, the remaining ones have little protection from winter storms. Many of these trees that were left are now laying crisscrossed along the creek-bed. It is against the law for the landowner to go in later and salvage any of these down trees. The landowner pays a high price by leaving merchantable timber to protect the "public's fish". Now that the trees are down and dead, he can not even recover his own dead trees for salvage.
Salmon Life ; In Washington State as many others, you need to fish for your target specie when and where they are present. There is of little hope to catch ocean or river salmon during a time when they are still feeding in Alaska. However there are some resident salmon (Blackmouth) who reside year around in Puget Sound, but that is a different story.
I guess first we need to identify the different types of salmon found in this state. A picture identifying each type of salmon is shown below.
Chinook (King)


*    Mouth is dark with a black gum line
*    Large, sharp teeth
*    Spots on both lobes of tail
*    Large spots on back

Coho (Silver)
*    Mouth is light with white gum line
*    Medium size, sharp teeth
*    Spots only on upper lobe of tail
*    Spots on back
*    Wide caudal peduncle

Pink   (Humpy)
*    Mouth is white with black gum line
*    In marine areas, almost no teeth
*    Large oval spots on both lobes of tail
*    Large black spots on back
*    Pointed lower jaw
*    No silver on tail
*    Very small scales

Chum  (Dog)
*    Mouth is white with a white gum line
*    Well developed teeth
*    No spots on tail or back
*    Calico markings (vertical bars)
– faint on bright fish
*    Narrow caudal peduncle
*    White tip on anal fin

Sockeye  (Red)


*    Mouth is white with a white gum line
*    Almost  toothless
*    No spots on tail or back
*    Large bright gold glassy eye
*    Deep blue color on back
Life Cycles : Under natural conditions, salmon have life cycles of hatching from eggs laid by the mature female and fertilized by a male in the gravel bars of rivers in the fall/winter of the year. From here they, (depending on the specie) either stay in the tributaries for from a week to a year before they migrate downriver and into saltwater. This saltwater could be Puget Sound or the Pacific Ocean.
Landlocked salmon that can not migrate to saltwater and food is restricted in freshwater so they will not achieve the size that their saltwater cousins do.
Development of Coho salmon eggs from day 1 of fertilization to emerged fry.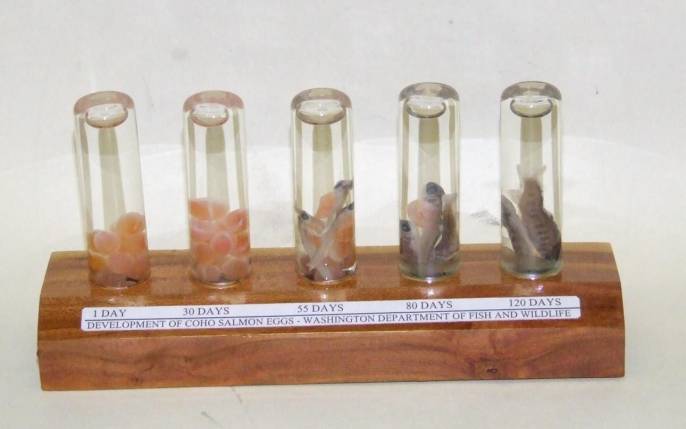 Once in saltwater, they tend to follow the food source, but ultimately have a built in guidance system that turns the majority of them right handed (and possibly also by the current which pushes then north along the Washington coast). Once entering saltwater they head into northern Canadian and Alaskan waters to spend from 2 to 5 years before they get mature and the urge to return to the original stream they were born in. It is thought that they can find this home stream as mentioned above by magnetic current for their long journey, and then as they get closer to their home stream where they can detect the smell of the water they were hatched and imprinted in, to follow it home and spawn.
When they return to their home streams, the normal returns for all species are in the fall from August thru December. They spawn shortly after locating their home streams if conditions are right. They pick out gravel bars, the female digs out a hole (red) in the gravel with her tail. When she is ready, she will eject her eggs into this hole and a male will be at her side to fertilize the eggs with his milt. She will then cover the hole to protect the eggs from being washed out or from scavengers. Once the eggs hatch, the young fish with a yoke sac attached stays in the gravel. This egg sac is food for the young fish. When the sac is consumed, the young fish (fry) will emerge and be on it's own in the world. It is estimated that from 2 to 5% of hatched fish will return.
Here the lighter colored gravel indicates "REDS", or where salmon or steelhead have dug holes in the gravel & spawned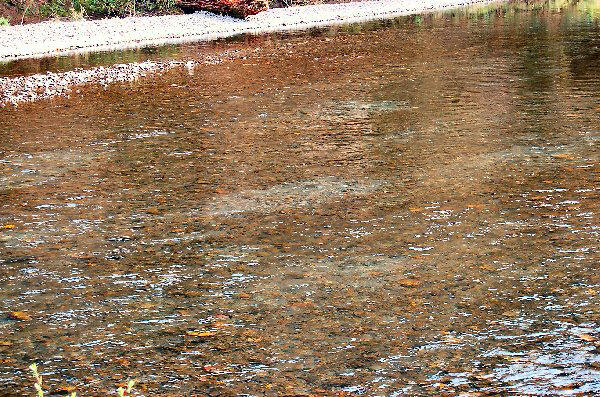 There is also a return of spring Chinook to some river systems starting in April, with the Columbia River being the best known. They also return to some of the other main river systems in the state like the Chehalis and the Cowlitz. These fish will then remain in the deeper cooler holes during the summer then spawn in late September or early October ahead of the fall run fish. They need good water conditions over a extended period of time to survive. A number of years ago (possibly 20) there was a recorded number of spring Chinook die in the stagnate water between Chehalis and Centralia because of warm water during a dry summer where the oxygen content dropped so low that these fish suffocated.
Ocean Conditions/Predation ; The survival of these young salmon when they reach the ocean depends on many things. Water conditions, (temperatures that produce plankton, krill, shrimp and anchovy/herring) all have a bearing on these fish's ocean survival and growth patterns. One thing that can effect fishing is the allowing of sardine/herring seiners to operate off the shallow coastal waters of the state. If these commercial operations scoop up all the food for the salmon, these fish may not grow, or even survive, much less stay around for the fishermen to have the opportunity to catch.
Ocean predation is always present as it is a world of survival where the larger fish eat the smaller ones, and then sea birds are always hungry.
They will also encounter fishermen from both Alaska and Canada (48% of the salmon hatched in Washington state) as they make their way south to a home stream. Also Washington ocean coastal fishermen (both commercial and recreational) will intercept some as they near their journey's end.
Now enter the sardine seiners off the Washington coast. These large netting machines can take tons of sardine/herring/anchovy in a setting. In the year 2012 at Westport one sport-fisher friend of mine was eating supper at a restaurant next to a seiner operator, who was very happy because that afternoon their spotter airplane had located a school of these baitfish that he figured he could take 150 tons. This was just one boat of the many participating in this fishery. And later in the season, the few Coho salmon that were taken were small, like 6-7# as compared to the 12-16# fish you would expect to find at that time of the year. Does the WDFW personnel that gives out these seining permits not communicate with other personnel who are trying to manage the salmon? You can draw your own conclusion here. In one of our fishery advisor meetings, I mentioned this and was told that I was not the first that had complained, and that they had a couple of biologists looking in to the situation. Boy am I eager to hear the results of the outcome of that one, however I will probably not live long enough.
Pre-season Forecasts ; WDFW biologists put together a yearly forecast of returning salmon. This can encompass many criteria from using returning fish to a hatchery the previous year. Here we will be discussing Chinook salmon. There are only 3 hatcheries on the Chehalis System, one at Bingham Creek on the Satsop, Satsop Springs and one on the Skookumchuck River. These are on tributaries, one low down and the other possibly 1/2 way up the system, so just how much REAL data can be gathered? And Bingham Creek has not had any returning Chinook to the hatchery for many years. Trout Unlimited volunteers have for a number of years snag pre-spawners below the hatchery to be used for egg take at the hatchery. However many of these females are so stressed because of this effort, that they die before the eggs are ripe. this is something that WDFW will not tell anyone, it has to be gleaned from the volunteers or hatchery personnel. The Skookumchuck hatchery has very limited Chinook returning, catering mostly to Coho and Steelhead.
Sure they have biologists that do helicopter fly overs to count the reds and a number of selected stream bank walkings, then a smolt trap to try to get a count on out migrating smolts (which is not used every year), but how much real usable data can be gathered? Then the spawning gravel will get redistributed after a major flood, so where the fish may have spawned 5 years ago, is totally changed, but that location is still on the map to be observed. However the 2007 flood really improved the spawning gravel in the upper Chehalis River.
Most all the hatcheries will have a weir in place to trap upstream migrating salmon. Here hatchery employees will be able to sort out the clipped (hatchery) fish from the unclipped. Usually they will allow the unclipped fish to pass upstream.
By using this counting system, plus they fly low over the river using a helicopter during spawning season each week and count the reds (spawning beds). From the numbers of reds they can deduce approximate number of salmon eggs, which equals potential number of young wild hatched out fish. They also have a floating smolt trap (that is used some years) placed in the river below Rochester in an area where young out migrating smolts congregate in. Another method is they sometimes do actual wading or snorkeling of the watersheds. These, over a number of years can give estimates of wild fish entering the ocean. The biologists using these and a combo of other methods will give a re-season prediction of returning paper fish, usually by February for the upcoming year.
Another tool used by biologists to estimate the next years run size is the jack count. A jack salmon is a immature male salmon that gets the urge to return a year early, (like a testosterone spiked teenager). It is very rare to see a Jill, I have only caught one in 40 years of salmon fishing. The biologists have come up with a percentage of these jacks in relationship to the next years actual run. From this, it is used as another tool in the formula to estimate next years return. The problem is they have to be counted and on the Chehalis system that is about impossible unless you count dead fish after the spawn. And that will be very sporadic. In the Columbia River where there are dams with fish counting, this is rather simple. For rivers like we are concerned with here, the count would have to be taken from actual observation or catches for both the recreational and commercials which not as reliable because of the delay in the reporting and tabulating which can be up to 3 years later.
WDFW selects add hoc advisory committees (of which I have been a member for 10 years) to help out the department come to a proposal that is then presented to North Of Falcon (NOF). This NOF process is a State/Federal oversight body that does the final season setting for the Pacific Ocean coastal waters from California to Alaska. NOF refers to the area north of Cape Falcon, which is just north of Nehalem on the northern Oregon coast, to waters at the entrance to The Straits of Juan De Fuca.
When minimal forecasts are presented to the advisory committee, there seems to be not a lot of discussion because all agree that we need to error in favor of conservation. But in a year when there seems to be enough paper fish to harvest, sometimes each side gets rather pushy at the negotiation table.
In the design of how the plan works for both the Chehalis and Willapa systems, the advisory committee came up with a Tier Style Plan. This ranges from Tier 1 to Tier 4, for both Chinook and Coho. In this plan the biologists estimate the number of fish forecast to return into each river system for the upcoming year. In this is the number of returning "wild" fish. Of these "wild" fish a formula is worked out as to the percentage of them that can be killed (either actually taken or die because of release mortality). From this number then the fish pie is divided among the users as explained above.
— Tier 1 Chinook – 0 to 112 harvestable non-treaty share of wild Chinook
Management Objective:
— Limit total harvest impacts to less than 10% on wild Chinook
— No directed fishing for Chinook
— No retention of Chinook
Recreational Fisheries Management:
— Provide equitable marine sport and freshwater sport opportunity
— Marine Area 2-2 – open no earlier than September 16 and release all Chinook
— Freshwater Areas – open appropriate areas no later than October 1 & release adult Chinook
Commercial Fisheries Management:
— Provide Chinook impacts to allow a directed Chum fishery if warranted based on runsize.
— Provide Chinook impacts to allow a directed Coho fishery if warranted based on runsize
— Mandatory use of selective fishery techniques that incorporate the use of recovery boxes & limited
soak times.
— No directed fishing for "late" Coho.
— Tier 2 Chinook – 113 to 536 harvestable non-treaty share of wild Chinook
Management Objective:
Manage fisheries to meet spawning escapement goals.
Recreational Fisheries
— Limit Chinook directed fishery.
— As numbers of harvestable non-treaty Chinook increase through this tier, retention opportunities for
Chinook increase.
— Provide equitable marine sport & freshwater sport opportunity.
— Marine Area 2-1 – open no later than September 16 with one Chinook as part of the two salmon
daily limit.
— Freshwater Areas – Humptulips River (up to the Hiway 101 bridge) no later than October 1 with
one adult Chinook as part of the salmon daily limit. Open other appropriate areas no later than
October 1 & release adult Chinook but may consider limited retention if warranted.
Commercial Fisheries :
Maintain and increase Tier 1 opportunities as follows:
— Increase Chinook impacts as needed to provide for a directed Chum fishery without reducing Tier 2
sport opportunities (above).
— Increase Chinook impacts as needed to provide for a directed Coho fishery without reducing Tier 2
sport opportunities (above).
— Use non-selective & r selective fishery techniques (including the use of recovery boxes & limited soak
times) as appropriate, in directed chum & Coho fisheries.
— No directed fishing for "late" Coho.
— Tier 3 Chinook – 537 to 918 harvestable non-treaty share of wild Chinook
Management Objective:
— Manage fisheries to meet spawning escapement goals.
— increase commercial Chinook harvest while maintaining & increasing Chinook directed sport
opportunity
Recreational Fisheries
— Maintain and increase Chinook directed fishing opportunities.
— Provide equitable marine sport & freshwater sport opportunity.
— Marine Area 2-1 – open no later than September 16 with one Chinook as part of the salmon
daily limit.
— Freshwater Areas – Humptulips River (up to the Hiway 101 bridge) no later than October 1 with
one adult Chinook as part of the salmon daily limit.
— Open other appropriate areas no later than October 1 & allow limited adult Chinook retention in
some tributaries if warranted
— Extend Chinook seasons and increased daily limit may be considered above 10,000 wild harvestable
non-treaty Chinook.
Commercial Fisheries :
— As non-treaty harvestable numbers increase above 537 wild Chinook, increase Chinook retention.
— Gradually increase commercial harvest, while maintaining Tier 3 sport fisheries measures.
— Management guidelines are to achieve equal sharing between sport & commercial fishers as non-
treaty harvestable numbers increase to 918 wild Chinook.
— Tier 4 Chinook – Above 919 harvestable non-treaty share of wild Chinook.
Fully liberalized fisheries.
The above tier system is just for Grays Harbor Chinook. There is a similar tier system for GH Coho and since Grays Harbor bay shares itself with the Humptulips River, there is tier systems for that river also. The numbers will change depending on the preseason forecasts for each specie and watershed.
The harvestable number for Grays Harbor (Chehalis River system) is as said before, paper or estimated number of allocateable fish which is usually 10% for Chinook, 20% if Coho directed if endangered and 10% for Chum. The Willapa system uses different percentages.
Now comes the issue where you may have an estimated under escapement for one specie and a abundance for another. Since both of these specie can be in the system at the same time, you can run into season setting difficulties. This has happened in previous years where the Chehalis River had an excess of Coho, but an under escapement of Chinook. While on the other side of the bay the Humptulips River was just reversed. And these fish seem to mill around in the bay, especially early on before the fall rains come, therefore fishers may encounter endangered or restricted fish in different areas of the bay, which may restrict some season setting dates. Remember — Conservation.
Fishing Seasons Set : Most of our fishing seasons are geared toward the returning fall fish because they are more in abundance. Since these fish are migrating from the northern waters down to waters off Washington State they are also targeted by both sports and commercial fishing interests from both Alaska and Canada. Here is where treaties with other entities have to be honored, otherwise we Washingtonians get only what is left over. We also have agreements with Canada within the northern part of Puget sound that help protect returning fish to their Fraiser River system.
The ocean and straits seasons are again set by estimated returns. With the actual seasons being set by looking at the estimates, taking into account of all interested parties, WDFW, sports, and commercial negotiating an agreement as to how the pie is to be split in April at the final North Of Falcon (NOF) process.
Prior to these final meetings, the advisors will meet numerous times going over the pre-season forecast then deciding the best approach depending whether the forecast predicts a low abundance or favorable numbers to allow more time on the water. But at the same time maximize the number of hatchery fish be taken while protecting any ESA listed fish that may be in the area at that time.
After the advisors meet and make recommendations, WDFW advertises and holds a open Public Meeting for each area. During these public meetings, the forecasts are presented to the public, along with any suggestions by WDFW, the advisory committee or public, is presented. Comment is taken, discussed (sometimes heated) and most times this in formation is returned to he advisory committee for fine tuning if need be. Beginning at this first public meeting and until the final public meeting the public can have input, by phone calls, written or electronic communications. Another but Final open Public Meeting is held, (usually within 2 weeks) which finalizes, seasons, bag, etc. After that meeting public input is over. The Pacific Fisheries Marine Council has the final say at their meetings. With everything finalized, WDFW then prints the yearly fishing regulations pamphlet.
In this forecast the numbers will give escapement goals, predicted total numbers and harvestable numbers. The whole system hinges on the escapement numbers accuracy, which is the numbers of natural fish needed to reach the spawning grounds to sustain a "wild" run.
At the above mentioned public meetings you will get different groups toting their agendas, and sometimes it seems to be the squeaky wheel is the one that gets the grease, even though no scientific data can be presented.
WDFW has records of both recreational catches Catch Record Cards (CRC) from previous years and Coded Wire Tags (CWT) recovered from fish from the commercial catches. This data has been entered into a computer modeling program that can pretty accurately spit out numbers and specie of targeted/by-catch for each block of time. So in this season setting, where a certain number of paper fish can be caught or killed by mortality, WDFW can by moving area boundaries, days and hours of soak time for the nets, come up with numbers to be within the prescribed preseason allocations.
A situation comes into the picture is since the recreational fishers are entitled to 50% of the fish, many of these returning fish, being of hatchery origin were originally raised for the commercial fleet, have genetics that seem to make them a non-biter fish. This works well for the commercial netters, but the recreational fisherpersons need a willing biter to take the lure. You could cast all day into a pool filled with Coho salmon and they just move out of the way when a lure comes close. OK, WDFW has allocated the recreationals time on the water and the OPPORTUNITY to fish. But there is a definite difference between FISHING and CATCHING.
There is in place a "In-season Management" system that can close a season if the escapement goal to the hatchery when required egg take seems to be not attainable, or if there are so many returning fish that the season is extended or bag limit is relaxed. This in-season management can be subject to the weather or if catches (both commercial and recreational) are going considerably over expectations. This has to be science and seat of the pants driven, however it is rarely used here.
In this season setting, the lower rivers of the Chehalis system Wishkah, Wynoochee and Satsop are having problems with meeting escapement of certain specie, therefore fishing in the lower Chehalis may be restricted to allow these homebound fish to reach their home streams. In these conditions, the mainstem Chehalis may have a restricted or season closed for a specie (Chinook) up to the Porter bridge. The thoughts here are that any fish that make it above that point are not bound for those lower streams and are available for upper river fishers in waters that have a better salmon return.
The Deciding Factor : All the planning can be a fish disaster if the watershed does not have the ability to allow water/gravel conducive to reproduction or survival after the fry emerge. This can also be relative to the major flooding of 2007 where the spawning gravel was washed away or that silt smothered out the unhatched eggs. This silt can also effect spawning areas for years later by covering up much of the spawning gravel, either directly or later during a heavy rain that loosens silt on the banks and then is washed down to also smother the eggs if the rain timing is bad. Now after 7 years, after all the silt has had a chance to be washed downstream, the river from a few miles above tidewater to at least Rainbow Falls now has excellent Chinook spawning gravel.
One fishing guide who fishes the lower Chehalis River, told me the spring of 2012 that this year was the first after the 2007 flood that he has seen the water turbidly clear up within a week of a heavy rain, (3/4" in 24hours) where in the past few years it has taken 3 weeks. This is a sign things may be getting back to somewhat normal in this watershed, but it has taken 5 years to get there.
A problem also is that with this major flooding a lot of the "woody debris" usually in the water that provides habitat for these small fish to hide from predators of all kinds, has been swept away and or is high on the river banks. However much of this has been replaced by more permanently anchored wood.
I will say that most of the culverts in timber company owned roads in the upper watersheds are now fish passable if they are in a area where fish can get to. Sometimes beaver dams do restrict fish passage except in a milder flooding situation.
How Do Fish Decide Where They Will Spawn : A salmon can detect the smell of it's home stream and follow it home to spawn 2 to 5 years later. This amazing ability allows the salmon to detect very small concentrations of some compounds in the water.
Using this concept, hatchery managers IF they need to move small fish into other tributary watersheds of the main watershed, will transport fry (small fish of from 2-3") or smolts (up to 6") to a new home water and put them in net pens or acclimation ponds, for a few weeks so the young fish get acclimated to new water smells before letting them go.
Fish Size & Value : Each specie of fish are classified somewhat by ratings in relationship to eating qualities. Chinook are usually the top prize in that they have the flesh a bit fatter and are also the largest, the Washington State record is 65#, but will average 18-30# . Coho are probably more prevalent, a bit drier flesh and in a medium size of 12-20#. Chum are smaller and nearer 8-12#, but the meat is not as tasty as their cousins and are normally targeted for the female's eggs or the meat for smoking or canning or for cat food.
Prices of commercial caught salmon are higher for Chinook, with Coho next and Chum on the low end of the scale. Some fish buyers do not even want the male Chums (only wanting the eggs from the females) when there is a large run available.
Value of salmon to the state for both recreational and commercial has been an argument for years. The commercials argue that they fish for the public. There have been studies on both. The economic value of commercially caught salmon basically relate to the fishermen, fish buyers, restaurants, businesses that offer commercial fishing gear, fuel, etc. The bulk of these river gill net boats are from 25' to just under 30' and are trailerable so they can move from one area to another. Many of these commercial fishermen are not doing this full time and have other jobs.
On the other hand, recreational fishers purchase lots of fishing gear, (it seems like some tackle is designed to catch fishermen more than fish), boats and motors, towing vehicles, fuel, pickup campers, rent moorage and RV spots, purchase food away from home, etc. where the total economic value is FAR greater than that generated by commercial fishing industry.
Fish : Salmon spawn in different areas of a river or stream. Chinook prefer to spawn in larger rivers where Spring Chinook will enter April to June and stay in large cooler holes in the river all summer, then usually spawn late September or mid October. Fall Chinook start to enter the rivers from mid September, but hold in the estuary or tidewater until there is enough rain to allow them to move upstream. They will usually spawn mid November.
Coho will enter the river system a bit later than the fall Chinook but seek out smaller tributaries to spawn, sometimes in small creeks no more than 3' wide from usually late November into February depending fish's river adaptation and on the water flows. Since they spawn in smaller waters, they will usually not be seen there until the heavy fall rains begin, allowing them enough water to get to where they are going.
Chum salmon are usually the latest to spawn and usually only in the lower reaches of the coastal tributaries.
Each specie also spend different times in the spawning stream after they hatch. Some like Chum will be from only 2 weeks, to others of a year.
Again each fish may spend a different number of years in the ocean before they return to spawn themselves. For Coho it is 2 years and Chinook, 3 to 5 years.
Chinook Weight/Age:
1st year: Under 2 lbs and are less than 18″ long
2nd year: Close to 5 lbs & 2 feet long
3 years old: 10 to 15 lbs
4 to 7 year olds: largest 15 lbs and up to 65lbs (nearer 100# in some Alaskan waters).
Salmon migrate out at the following ages:
Fall Chinook – 3-4 months after being hatched
Spring Chinook, 12-16 months after being hatched
Silver (Coho) – 1 to 2 years after being hatched
Chum- 10 to 30 days after being hatched
Sockeye- 1 to 3 years after being hatched
Pink- 7 to 30 days after being hatched
All data says that pacific coast salmon die after they spawn. However it is my suspicion that on certain large rivers that are also short enough, have cold enough water with a good flow AND have good spawning gravel close to the ocean, that it is POSSIBLE that salmon, (especially Chinook) could spawn within a couple of days of leaving the saltwater, then be swept out to the ocean by a COLD fast running river where they could then recover in saltwater. The 2 rivers that come to mind would have been the Elwa River in Washington State and the Kenai River in Alaska. Both of these rivers have in the past produced very large fish. I, in talking to a guide in Alaska found out that some of these large Chinook there were 7 and 8 year old fish. This same guide said that AFG has tried to transplant Kenai eggs into other rivers but have no large fish return as a result of these plants. Steelhead can return and be repeat spawners, why not salmon UNDER THE RIGHT CONDITIONS?
Remote Site Incubator: These (RSIs) are manmade spawning units that the with approval and the proper paperwork from WDFW, fertilized salmon eggs are obtained from the fish hatchery, transported, placed in the units where the eggs hatch and are then placed in streams in outlaying areas.
There are a number of these RSIs scattered around the state, with at least 5 that I am aware of in the Chehalis watershed system. One on Deep Creek northwest of Adna has been raising 100,000 Coho eggs since 1983. For a internet link to a article with photos go here http://www.leeroysramblings.com/RSI.htm
Steelhead / Cutthroat : Steelhead are in reality a large sea-run Rainbow trout. They also enter saltwater for a couple of years. Very little is known about their travels after they enter salt water. This could be partially because since they are not a salmon, or defined as food fish that would normally be encountered in salt water, not legal for non tribal fishermen to sell commercially, that the WDFW does not allow commercially licensed fishermen to retain them. Therefore the department has closed a door that otherwise have been open to them as a research tool for this specie.
Steelhead are not targeted/caught that much in saltwater (except off certain beaches in Puget Sound), but mainly in the rivers. Many fishermen like to fish the coastal Olympic Peninsula rivers, however there is a good run inland up the Snake and Clearwater Rivers in Idaho.
These fish have the ability to survive after spawning and can return a few years later to do it again if conditions are right. However depending on the distance traveled from the ocean, the stress involved in getting to the spawning area, the majority of them do not survive for a return trip.
Cutthroat trout are a natural resident of these waters. But it seems that they favor the smaller tributaries where they are able to get in areas where the predator Squawfish (Pike Minnow) finds less favorable. In my observation over the last 50 years Cutthroat population has went down as the Squawfish population has went up.
Sturgeon : Sturgeon have been on the decline for a number of years on the whole Washington coast. It is the WDFW thoughts that the Columbia River is the nursery for most of the coastal bays/rivers that sturgeon are found in. In recent years sea lions have increased considerably and some are on the ESA protected list even though their population has greatly increased. These predators have found a home on the Columbia River, mainly below Bonneville Dam where salmon and sturgeon congregate. The WDFW and ODFW have tried to be able to eliminate the ones that have been identified as repeat offenders. Observers have recorded that these predators will kill a minimum of 8 salmon a day.
When the salmon are not prevalent, the sea lions have found that sturgeon are just as good as salmon. The problem is that spawner sturgeon are the older large fish (many times up to 12' and 800#). The sea lions have found that these large fish are mostly females and if they take them in the bellies where the fish have no armor, the sturgeon have little defense and the sea lions apparently have developed a taste for caviar.
WDFW, using past history concluded that Willapa and Grays Harbor sturgeon migrate from the Columbia River. The recorded catch in both bays/river systems has maintained near 500 a year for each. So they reasoned that as long as the catch numbers are somewhat constant that there is a healthy population there. They have also concluded that there is no spawning population in either of these river systems (because no one has ever witnessed it happening).
In recent years the catch has been lower, yet WDFW still allows unrestricted sport sturgeon fishing and regulated commercial fishing.
However if the sturgeon catch is down, does that not possibly indicate there is less fish there? Then in the Chehalis, with the Quinault tribe netting a considerable amount of time for salmon and steelhead but taking any by-catch (sturgeon) that the river system is not self sustaining and getting depleted.
Enter Water Retention as Flood Control on The Chehalis : The 2007 flood was devastating in the Chehalis basin. There has been finger pointing for years and so many studies have been conducted, but nothing has been done. People are getting tired because of all the money that has been spent. It seems that the US Army Corp of Engineers has the reins and all they seem to want to do is build dikes to protect the Highway I-5.
There is a problem in the Centralia area below where the Skookumchuck River enters into the Chehalis River, in that there is a "hump" in the Chehalis there that probably was the result of sediment from the Skookumchuck over years washing down & into the Chehalis & then building a somewhat natural low dam, restricting the amount of water that can pass at any one time.
One very simple solution would be to dredge that hump out. But WDFW seems to feel that this would be a detriment to fish and then the Chehalis tribe is also opposed saying that any water during a flood would reach then sooner. Yes, but it would also allow it to dissipate any upriver water faster.
The area the Chehalis River passes thru Centralia is a bottleneck between I-5 and the slightly higher ground on the east side of the Mellon Street bridge. This hump downstream makes it worse.
The proposals that I have heard from Ron Averil, Lewis County Commissioner (until the election in Nov. 2012) is that the USACE plan was to simply build retention dikes on the sides of the Chehalis/I-5 to keep water from the freeway. These proposals never took into account that the water also comes in from side streams and would back up behind the dikes. There is the Newuakum River, Dillingbaugh Creek, Salzer Creek, China Creek and the Skookumchuck River, all emptying into the Chehalis behind these proposed dikes with no method of taking care of this also excess water. Both the cites of Chehalis and Centralia would be flooded worse from behind these proposed dikes unless some LARGE pumps were installed discharging water miles downstream.
OK, now the idea of water retention in the upstream Chehalis. Two water retention impoundments (I will not call them dams) have been suggested. One impoundment in the main Chehalis River above PeEll, and another on the South Fork of the Chehalis in the upper Boistfort valley.
Not having seen the latest proposals, with the locations and heights of these impoundments I will reserve my thoughts until I am more informed.
Chehalis Valley Flood Authority : This committee was formed after the 2007 flood. From what I have seen of the dam proposals from Anchor Qea, (the hired engineering firm) they have done a extensive study as to water temp below the dam, sedimentation, fish habitat inundated with estimated lowered/increased fish survival.
The PeEll dam is proposed to be 2 miles south of the town of PeEll at River Mile 108.3 which would be about the entrance into the Chehalis canyon above the Weyerhaeuser truck shop. There are 2 proposals, both of which would have fish passage. (1) flood storage only and (2) multi purpose (meaning hydro-electric capabilities as the secondary purpose here). #1 would be 238 feet tall and #2 would be 288′, with the spillways 50′ below the upper rim. #1 would have a capacity of 1000 acres and #2 1450 acres. Maximum change in drawdown on either would be set at 200CFS/per hour to prevent sudden surges of water downstream or cause sudden stranding of fish.
The loss of spawning will mostly be on the East Fork of the Chehalis, as there is a 40' falls on the lower end of the West Fork (at River Mile approximately 112.7) that is currently impassable for fish, so being as there are no fish there now, why all the opposition?
The canyons are very steep and not very wide in the bottoms along the river here.
Anchor QEA estimates a reduction in Steelhead and Coho of 28% to 43% with this minimal amount of spawning loss.
There are 2 questions (both related) I would ask as to this spawning area being deleted. I need to go back then re-read but if I remember there was no numbers associated with these lowered effected spawnings. It would be nice to see their estimated numbers instead of percentages. The reason is that when most dams are put in place, there is a mitigation agreement to replace these "lost" fish. By this I mean someone pays to supplement the effected area with hatchery raised fish.
If the numbers of defecated fish were known, then that would give a directive for the numbers of planted fish needed. Now realize that usually 5% is about normal of fish planted compared to the number that actually return.
This does not in my mind, mean that there needs to be a fish hatchery there, but eggs/fry from the Chehalis system could be raised/transferred, say from the WDFW Skookumchuck hatchery to this area. They do have returning Steelhead and Coho there, since they are from the same watershed are legal to move within the system.
But could be beneficial if acted as a water retention and releasing regulated amounts of water during the summer.
The proposed retention on the South Fork of the Chehalis would be a totally different matter as far as concerning fish. In my mind it would need to have upstream fish passage as from what I have seen as the proposed area of the dam it would be in the upper Boistfort valley near where the old 530 logging road crossed the South Fork, base elevation of about 450'. This would be an ideal location as the whole river there cuts thru solid rock. But upstream from there the river heads south into a long valley and then west into the upper reaches toward the divide near Elokaman Lake. This retention devise would flood a lot of upper river bottom. However the canyons get narrow as you go upstream. But depending on the height and exactly where it would be put, could jeopardize the town of Ryderwood.
I would like to see the proposal South Fork site and expected inundated area.
Currently WDFW restricts salmon fishing in the South Fork above the bridge just south of the Boistfort school, I am not really sure, possibly of insufficient numbers of fish there, or to protect what numbers of spawners may find their way there. Or it may be a carry over from years gone by and no one questions it.
I know a farmer that lives near Wildwood and he has said that when WDFW has snorkled the South Fork of the river on his property approximately in 1998. they were amazed at the number of spring Chinook summering there.
As for steelhead and cutthroat trout, there has not been a lot in these rivers for some time and those that are would probably be wild or strays from the Skookumchuck which does have a hatchery and releases steelhead.
Willapa Fish Management : For the most part the Willapa management plan is pretty close to the Grays Harbor plan with the exception that there is no treaty tribe situation to deal with. However there was a person from South Bend who got appointed to the advisory committee where it appeared that his sole goal was to bring back Chum salmon to the Willapa basin to "Historic levels", basically 1929.
Going back in history, WDFW used to plant Chum salmon in the basin. I am not sure when but probably 20 or 30 years ago the idea was to change over to Coho instead of Chum. In those years there was not much recreational fishing and Chum were looked down on anyway. And Coho would bring a better price from the commercial fish buyer than Chum.
The numbers of Chum spawning and subsequent decaying carcasses along with the young Chum in the system provided food for the other salmon as they stayed in the system for some time. This person had a personal agenda and threatened WDFW that IF they did not come up with a plan to restore Chum, that he would file a lawsuit against WDFW using ESA Chum as his leverage. If WDFW did not at least come up with a PLAN to accomplish this, (whether this plan functioned or not) then at the time frame when Chum could be expected to be in the system, that ALL fishing would have to be suspended, because of the possible encounter rate on Chum.
This was at about the same time HSRG was looking at the hatcheries in this system. Of which there are three, the Naselle, Nemah, and Forks Creek off the Willapa River. Of these 3 hatcheries only Forks Creek appeared to be the only one that was functioning well. The other two were on the chopping block, or needed repairs.
A plan was formulated to move fish around in the system, alter all of the hatcheries as to how many and which specie were being raised. The main thrust was to modify the plan to move all specie around so that there would be more commercial fishing in the lower (southern end) of the bay. This would free up some space for the recreational fleet in the northern end which might ease tension between the sports and commercial fleets.
Since this river system is small in relationship to others, it seems that there are not a lot of Chinook entering the river/crossing the bar at any one time and for the recreational fleet to be able to have a reasonable catch rate, there needs to be enough fish staging in the known fishing areas to be able to have a quality fishery. The recreational fishers have found that when they share the bay with the commercials, that after the netters leave, it takes at least 3 days to build the numbers back up to make it even worthwhile to launch a sport boat. The commercials may fish 2 to 3 days a week, so the sports opportunity is diminished greatly.
Coho are different in that when they enter the bay, usually the last of September, that they do so on each incoming tide and there are so many that the commercials can fish every day and still have good results. The netters say that on a good year when the Coho are running, that they could fish 24 hours a day for a month and never get them all because these fish at high tide move out over the shallow oyster beds in 3' to 6' of water where their boats can not get to them.
These early Willapa Coho are not willing biters to the recreational fleet, again bred for the netters.
Listed below is a rundown of 3 previous years of Commercial landings in Willapa Bay.
Chinook Coho Chum Sturgeon
2009 6,471 72,779 4,568 179
2010 6,903 28,568 1,514 329
2011 18,916 46,173 4,711 173
Recreational Catch
2009 4,552 6,257 – 0 – N/A
2010 3,217 4,891 – 0 – N/A
2011 Not Compiled as yet
The above numbers were taken off WDFW information, either website for commercials or printed material for the recreationals.
The year, 2012, the netters conceded to allow only 2 days of netting during one week in the 2nd of 2 popular sports fishing areas. They say that if they do not get to net there they will loose thousands of dollars and these fish will be wasted, going to food banks or cat food. One also said that IF there was a major surplus of Coho back to the hatcheries, that HE would file a lawsuit against WDFW for mismanagement. They seem think that if the recreationals can not take all of the "excess", then these fish belong to the commercials under the "forgone opportunity" theory.
The recreationals can not in any way harvest that number of fish, (remember willing biters) plus by that time of the year the weather can severely hamper the small sports type of boats.
So the saga continues –
LeeRoy Wisner
Originated 04-15-2012 Updated 01-17-2014