Well I may be getting myself into something here beyond what I had intended, BUT here goes !!!!!     First off, I have to think that you are a fisherperson of some sorts or you would not be reading this article.  You could be a person who takes your 6 year old son to a lake for perch or trout a few times a year, or the dedicated large lake or even a saltwater fisherman who hits the water as often as possible.  That leaves a lot of middle ground that probably most of us fit into.  After a while most people who get the crave to fish become addicted and come to the conclusion that being shore-bound has some drawbacks.  Hence comes the introduction to boats. 
First rule of boat ownership is, that NO BOAT THAT IS A COMPROMISE for all types of fishing, there are only compromising fishermen.  The perfect all-around boat is usually the one the other guy has.
Different Needs For Boats ; Boat types vary from region to region.  You will find different style boats in Tennessee than seen on the Great Lakes and again different on the salt flats of the Gulf of Mexico to the special designed boats of the North-West for usage on the Columbia River.  Or the long range boats used out of the Florida area in the Atlantic Ocean.  This does not mean that any of them are wrong or bad, but just that they have evolved depending on the specific needs of the region.
The natural tendency is to look at larger boats and wish.  Many of us have been there/done that and have probably purchased larger boats in our lifetime.  That is all well and good, but times change along with sometimes health issues also enter into the picture.  Many times the larger boat that fitted you and your style well that saw considerable usage when you had a family, over time turned out to be so cumbersome for you as a older single person to operate.  And boat values do not increase, so to get rid of it, you basically may have to sell the trailer and give the boat away.  Many times a smaller but adequate boat is better in the long run if you still intend to use fishing/boating as a recreation after you retire.
Maintenance is something you need to keep up on as far as boats / motors is concerned.  If you let your boat / motor set out in the weather all the time, mother nature has a bad habit of being cruel.  Do not expect your motor's battery to still be alive next spring.  Mice will find the boat as a protected place during the winter.  Seat cushions will become cracked.  Bolts will become rusted.  Fuel tanks will draw moisture and or rust, plugging up the motor's carburetor next spring.  If this is your normal method of operating, do not take it to the marine mechanic the week before fishing/boating season opens and expect a few day turn-around.
OK, lets start small and simple, then slide uphill to the larger boats for this article.  First off, all boats will need to be in compliance with the Federal and State safety requirements of Personal Floatation Devices, bailing devices etc. pertaining to the waters being used on.
I have arbitrarily set boat length as a category.  This may be wrong in a sense because many of the styles can overlap, so bear with me.
Car Topper ;   For most, this could very well be a 8′ to 12′ car-topper or something that could be carried in the back of a pickup truck without a trailer.  Sure a trailer could be a plus, but not totally needed.  Outfitting one of these could be minimal being all that would be needed would be oars, a small outboard outboard motors anywhere from 2hp up to possibly 10hp, or electric trolling motor depending on the water you intend to fish. 
The hull building material can be either wood, fiberglass or aluminum, with aluminum probably being more predominate for these small boats.  Even a inflatable boat would fit in this category.
For these small boats, even though they do not weigh that much, being rather awkward, usually need 2 people to launch.  That is unless you mount a set of retractable wheels on the transom, whereby one person can wheel the boat to the water.
You probably should consider an anchor of some sort, the 8 to 10# mushroom ones work great, but so does a coffee can filled with concrete.  Anchor rope need not be large in diameter, possibly 1/4″ will do, then depending on the depth of the water you intend to visit the length of rope should be longer than your intended bottom depth.
Rod holders could be helpful, depending on what your target fish specie is and how you fish.   A removable swivel backrest seat would be preferable to just a boat cushion.
| | |
| --- | --- |
| 12′ aluminum boat | 12′ fiberglass Tri-Hull & 6hp OB |
| | |
 Jon Boats ;   These boats will almost always be made of aluminum.  They are typically a shallow flat bottom, flat bow type of boat that is simple, economical and very usable on the average lake, pond, or slow moving river.  You can see them made from 12′ to 16′.   HP of a outboard will be minimal, however about 10hp probably being normal.
These and the car topper could be used interchangeably, depending primarily on the intended usage and the region.
| | |
| --- | --- |
| 14′ Lowe deep Jon boat | 12′ Jon boat mounted on a pickup canopy |
| | |
 Normal Fishing Boats 14′ to 16′ ;  Next up the ladder of boats will put you into what is probably the most common size used for the average fisherman.  Here you will have to have a trailer to facilitate moving it to and from the water.  Modern day hull building material can be either fiberglass or aluminum.  These boats will normally be used on lakes, reservoirs or inland waters like bays or even protected sounds in good weather.
Now we will separate out the different types of fishing boats from other recreational boats like water skiing, tubing etc.
Normal Fishing Boats ; 
These will not require large outboard motors, so you will probably see anywhere from 10hp to near 30hp for normal fishing boats.  Most of these fishing boats will also have some means of trolling at a slower speed than the regular powered motor can provide.  This can be in a small outboard of from 3hp to 8hp or even a electric trolling motor.
You will probably see many open boats here, however convertible tops are popular in areas that have lots of rain or sunshine.  Rod holders are a must.  Again a anchor may be very beneficial. 
An ice cooler is also another thing to have along, to keep your beverages and to take the fish home in.  Cushion seats are the norm here.
You will normally see some form of sonar fish/depth finder on most of these boats.
| | |
| --- | --- |
| 15′ aluminum Smoker Craft | 16′ Fiberglass open fishing boat |
| | |
 Drift Boats ;  These usually do not have a outboard for auxiliary power, as they are normally rowed.  They are put in a river that is flowing, AND rowed with the stern pointing upstream, but slow enough that the boat slides downstream.  Since they have a flat bottom where the stern and bow are flared up dramatically it takes very little effort from a good oarsman to maintain a position in a current.  They can navigate through a considerable flow at a riffle because both ends raised, but the oarsman needs to be competent to not get caught against a bank, rock our under a overhanging tree.
The drawback is that there has to be a vehicle dropped off at the take-out so transportation is back to the launch area to retrieve the towing vehicle and boat trailer.  Sometimes, on some highly used rivers there is a shuttle service that will transport your vehicle down to the take-out.  A few owners may even carry a small motor scooter on board for transportation back to the vehicle.
Most of these boats have an anchor system mounted to the transom.  The anchors are usually a lead  25# pyramid style with the eye in the base.
If you happen to frequent rapids type water with boulders, it may be beneficial to carry a spare oar, in case you loose or break one.
Occasionally you will see a 10hp motor mounted on some of these boats, which is used to move back upriver to the launch area in areas that do not have any white water.
It would be very unusual to see sonar on these boats basically because they are in shallow water anyway and if they encounter a boulder, they just slide over it because of the flat bottom.  And in that shallow of water they would have to be right on top of a fish to see it, and by then the fish is spooked away.
A drift boat Steelhead fishing on the Satsop River on a cold January day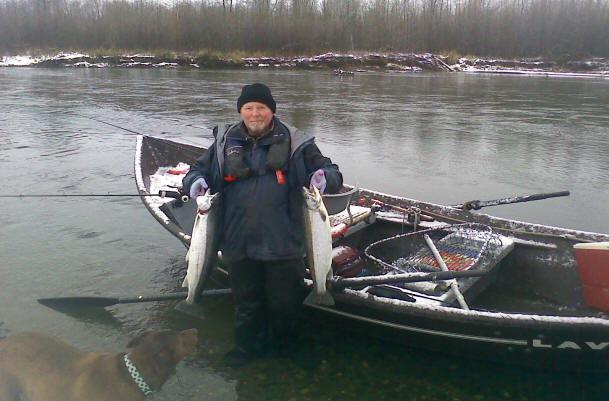 Bass Fishing Boats ;  For the tournament bass type boats, the hp could very well be up to 250 hp.  They apparently think they need the large hp for speed to get to the fishing areas and back before their competitors.   These boats will usually be a shallow hull design with a full walk around carpeted deck with folding cushioned seats that sometimes can be moved.  The front deck is usually raised to give visibility. 
The decks will normally be carpeted to cut down on any noise created in or on the boat.
They will not have a auxiliary or trolling motor but will usually have a electric trolling motor usually mounted on the bow, with foot controls.
Here you will see the use of live wells with fresh water circulating thru the tank.
| | |
| --- | --- |
| 18′ Ranger bass boat with 150 hp Yamaha | Note foot operated electric trolling motor on bow, & pedestal seats both front & rear |
| | |
Water Skiing Boats ;  Here the hp will be in the 100hp and up range to supply the power to pull the skiers or tubers.   These boats are generally shallow draft high speed boats.  However you will see some regular fishing boats outfitted as a dual performance boat.
Here is a requirement on most waters that needs a rear view mirror, and an observer.   Most will have a post in/on the rear section of the boat that is high enough so the tow rope does not get tangled or a tow bridle with a float off the transom so the rope does not come in contact with any part of the boat or motor when it makes corners.
| | |
| --- | --- |
| 18′ ski boat | More of a combo family/ski boat |
| | |
Flats Boats ;  Here there are special boats designed to run the flats of the Gulf of Mexico from Texas to Florida.  Length will normally be from 15′ to 20′ in length.
Many will have a reverse chine hull design which lets the hull cut through chop and pushes water away from the hull, making for a dry and smooth ride
They will predominately be outboard prop powered.  Very few will be what is considered overpowered.   You will see jack plates mounted on the transom, which allow the motor to be raised when running in the real shallow water and yet lowered to operate more efficiently when running in the deeper water.  Most of these jack plates will be hydraulic controlled.
These sleek boats usually have a center console and can have a Tee top for sun protection.  You may also see a poling platform as seen in the photo on the right below.
| | |
| --- | --- |
| Carolina Skiff | Bay Craft flats boat |
| | |
 18′ to 22′ ;  Now we are starting to get into serious fishing or possibly offshore boats, not saying that the smaller ones are not, but I guess that the larger the boat the more money that is expended and usually the more serious the fisherman has to be, to justify it.   These have been predominately fiberglass in the past, however aluminum usage is currently being increased.  I will say that the bulk of these sizes of boats will be used on saltwater and for larger fish, such as salmon, ling cod, halibut, rockfish, etc.  They may also be used on the Great Lakes.
Here hp will probably be from 90hp to 200hp.  Also there will always he a outboard trolling motor in size 8 to 15hp.
Here we will also separate the propeller driven boats into outboard and inboard/outboard propulsion style, then again the outboard and inboard jet boats. 
Propeller Driven Boats ;  In this size, you will see both inboard/outboard and regular outboard propulsion.  The inboard/outboard units are usually automotive engine attached to a out-drive similar to a bottom 1/2 of a outboard motor.   
As shown in the photo on the left below you will see a arch that holds rod holders.  These type of rod holders are nick-named "Rocket Launchers".  On the side of these arches are usually brackets to mount fishing nets, and or a radar bracket on the top forward.
These offshore boats will have a clear vinyl zippered rear door that the whole rear section can be unzipped if the weather is good.  There is usually room for a Port-a-Potty under one of the fold up seats.
Many will have a rear removable top that zips into the rear door section, snaps onto the side railings and covers the whole rear of the boat, possibly even the motors.  This is not normally used, but only if the owners need a place to spread a couple of sleeping bags out on the floor out of any possible weather or bugs.
Always there will be a hard wired in bilge pump on these boats.  Also many will have a high pressure wash-down pump for fish/deck cleaning.
It is becoming a more common practice for the manufactures to offer a folding center windshield with a walk thru to the lower deck in front of the windshield.  Many also have a built in fish-box in this forward walk thru.   Some even have built in locations for 50 quart ice coolers which also function as a seat.
Outboard Boats ;  The outfitting of either the inboard/outboard and regular outboard will normally be about the same, except the outboards have more room at the stern because the inboard motor is not there taking up room.
| | |
| --- | --- |
| 20′ Hewescraft aluminum Sea Runner with offshore bracket for an outboard motor | 20′ Bayliner outboard, with a cuddy cabin |
| | |
| 20′ Tiderunner with 150 & 9.9hp Yamahas on offshore bracket & a hard top with side curtains | |
| | |
 Inboard-Outboard Boats ;  The inboard/outboard units are usually automotive engine attached to a out-drive similar to a bottom 1/2 of a outboard motor.    These units have the motor mounted at the rear next to the transom with the out-drive going out the lower rear of the transom.  The motors take up a lot of rear room that many fishermen do not like as that is where all the action takes place. 
The inboard/outboard was something that came in to being in the late 1960s and was very popular.  However in the last few years, outboard motors have been increasingly more powerful and then with the advent of the 4 stroke motors have made a comeback over the inboard/outboards.  Then when OMC quit making their I/O units, that left only Mercury and Volvo.
| | |
| --- | --- |
| 20′  Bellboy I/O 175hp OMC | Mercuiser outdrive |
| | |
 Jet Boats 1 ;  Basically these boats use a large hydraulic water pump attached directly to the motor's driveshaft.  The large jet of water is directed rearward where turning is accomplished by twisting the motor/out-drive so the water jet pushes the boat in the direction opposite the flow.  They have an water suction intake grill mounted just under water at the stern.

These are usually outboard jets, however you will see some inboard versions.  They are usually used where the operator may have reason to believe he will be operating in shallow water where a propeller driven boat would have trouble navigating.   These boats are normally nearly flat bottoms (very slight Vee) and with the water intake so high, the boats at full power can run in about 6″ of water.

About the smallest hp you will see for an average jet boat will be 70hp, as you loose about 30% power over the same propeller motor.  Some smaller lightweight aluminum boats (14′) where only one person will be fishing, may use a 40hp motor.
They are a stable boat, but do not handle a lot of rough ocean type water well.  Then since the efficiency of these of these jet motors is decreased 30%, fuel economy is not that great if you intend to travel any distance.
 One bad thing about jet boats is that since the jet pump is mounted directly to the driveshaft, the impeller is turning all the time the motor is running.  Forward / reverse is accomplished by a clamshell that is pivoted on the rear of the jet's output nozzle.  For reverse, this clamshell pivots up, diverting the water forward.  There is really no neutral, except somewhere about 1/2 way between forward and reverse, you can possibly find a position where there may be enough water being diverted both forward and reverse creating a false neutral.   Many when starting and warming up the motors of the jets will ground the bow into the bank or stay tied to the dock and try to find as close a neutral as possible.
Another bad thing is that they are susceptible to sucking floating grass or weeds into the pump impeller, making the motor useless until the debris is cleaned out.  Therefore the motor really needs to have power tilt so the unit can be raised enough for the operator to be able to clean the grates.
Most will have forward mounted steering with windshields with a convertible top.  However these boats will normally never be used in shallow enough water to really warrant the jet drive, just as a precaution more than anything.
| | |
| --- | --- |
| 19′ Alumaweld with 150 Mercury jet | Willie Predator  with typical motor sizes & arrangement |
| | |
 Jet Boats 2 ;  Everything mentioned above will also pertain the following type of boats, just the means of steering is different.   But also they very seldom have any windshield, as this takes up room in the boat and with the operation of the motors at the rear, the need for protection is not needed, (these skippers are hardy souls who know what raingear is).
These open jet boats (no windshield or top) you will see were probably perfected by large river fishing guides.  These will have tiller mounted units even on hp up to 200hp.  This arrangement gives the guide more immediate control in navigating a fast flowing river.  It also puts the guide in a position where he can observe all of his clients, by being at the rear of the boat, facing forward watching them the bulk of the time.  
They will usually have a hydraulic tilt kicker motor and the commonly accepted is the Yamaha T8, which is a 8 hp high thrust unit.  They will also have mounted a electric trolling motor for usage where minimal power is required to stay in a position.
These boats will usually have full length rod lockers in the gunnels with numerous movable rod holders.  The sonar units will be mounted at the rear.   Most will have a movable swivel seat for the operator.  The one in the photo below has 2 movable seats in the rear and 2 stationary seats in the front.  Under the front seats is waterproof storage.  A fish-box is located in the forward platform section.  Batteries and fuel tank are under the floor, making a very clean deck layout.  For a more detailed article on specific river type jet boats CLICK HERE
| | |
| --- | --- |
| 22′ Guide boat, tiller mounted 150 hp outboard jet & a 8hp kicker motor | |
| | |
 23′ to 26′ ;  Real serious fishing going on here.  Most of these boats will be made of fiberglass.  Power could large inboard-outboard, outboard or even twin outboards, or large inboard motors.
| | |
| --- | --- |
| 23′ Fiberform inboard/outboard drive | |
| | |
 Observations ;   As on any boat, the owners have different needs and abilities to modify to suit their whims.  There are many simple items that a person can incorporate in a boat to make life easier.  CLICK HERE to go to my boating improvements article.   Keep your eyes open anytime you get near another persons boat, you will surely pick up some ideas that you may use or modify to fit your needs.  We can not live long enough to learn it all by ourselves.  Wisdom comes from keeping your eyes and ears open AND from experiences, both good and bad.
Ideas as far as outfitting boats are like elbows, everybody has at least two.  But it amazes me that many things done to boats may not have been really thought out.  Like rod holders mounted in the wrong locations, where the handles of two overlap and the lower one can not be picked out of the rod-holder unless the upper rod is removed first.  Or tops on some boats, either convertible or hardtop are so low that the average person can not stand up under them.  Then it may behoove the builder to at least somewhat conform to normal building practices if he ever wants to sell a unsightly looking boat.
Below this builder made this plywood boat of his own design, doing a great job on the hull following a somewhat dory style, but woefully fell down on making the cabin.  Kind of like he ran out of money and/or wanted to get it on the water real soon.  The problem is that a potential buyer will look at the cabin and automatically think the rest of the boat is made with the same thought in mind.
Here the hurriedly made boxy cabin may be a turn-off to a buyer no matter the price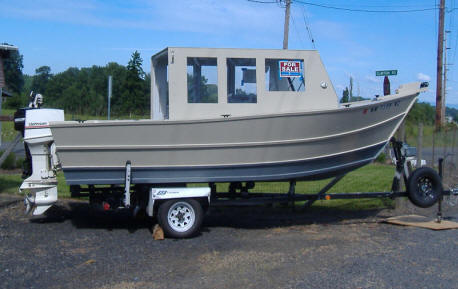 One question I hear many times is what side of the transom should I put the kicker, or trolling motor on?  This can depend on numerous things. (1) which side balances your boat best, like you probably should place this motor on the side opposite of your battery or fuel tank.  (2) Do you stand or set at the rear steering it or is it attached by a linkage rod to your main motor and steered by your steering wheel system for the larger motor? (3)  Most of these (at least the earlier motors) have the tiller handle mounted to the right, (starboard) as they were designed to be ran from a small outboard with the operator setting in the middle of the boat, using their right hand for steerage. (4)   So if you mount it to the right, with the tiller handle to the right, if you turn the tiller to the right (making the boat go to the left) the handle could well be beyond the gunwale of the boat, you reaching far. (5)  However if you mount it on the left, (Port) then the tiller will be more centrally located if you are steering it by hand. (6) If you have a boat that has a sonar transducer, this may determine which side of the transom you mount the kicker, unless you move the transducer. (7)  Are you right handed or left handed?  (8) Are you blind in one eye and need to set or stand so you can see as much of the complete spectrum, mainly straight ahead as compared to only 1/2 of the boat.
As the boat gets bigger, the towing vehicle needs to be able to handle the increased size and weight it is being called upon to tow.  This means more vehicle engine hp which along with that means less fuel economy.  You will also see many 4 wheel drive vehicles here.  One reason is many times the boat launches can be steeper than normal, possibly wet with slimy algae or seaweed growth contributing to slippery conditions.  It is a rather helpless feeling to have a boat on the trailer at the bottom of a slippery ramp with the tide coming in and you can not get traction with just a standard 2 wheel drive vehicle.
copyright © 2010 – 2014 All Rights Reserved