The legal WDFW description of the Chehalis River is that it starts at the upper boundary of Grays Harbor bay, which is the Hiway 101 bridge at Aberdeen. This fishery will be for Chinook and Coho salmon which will usually be centered around the waters from Cosmopolis to Montesano. However be sure to read the WDFW regulations as some years the Chinook retention is closed if there appears to be not enough returning wild fish for natural spawning escapement.
This article will cover from the Hiway 101 bridge up to the Montesano launch
As stated in the 2005 WDFW regulations "All salmon required to be released may not be totally removed from the water, except anglers fishing from boats 30 feet or longer as listed on either their state or Coast Guard registration are exempt" from this rule.
There are 3 launches in this area. Here is the spot to use your car-topper or small 12-14′ boat with a 7 1/2hp motor, as compared to your 22′ ocean fishing machine. You are upriver enough and protected by the surrounding land that even a more than mild wind does not effect the water that much.
Most of the fishing here will be from boats, as bank access is limited, and just the conditions of tidewater banks is not conducive to bank fishing unless you get upriver, use the facilities at Friends Landing or above the Montesano launch.
(1) Weyerhaeuser Boat Launch – Chehalis River– Cosmopolis
In Cosmopolis, turn east at 'F' Street, ( between the gas station and the police station) go 2 blocks to end of street & the parking lot.
Single lane blacktop ramp, with an extra wide gravel side extension on upstream side. Sizable amount of parking and it's usually pretty packed during the rush season.
Fairly good to launch during low tides.
No fee. No restrooms but no restrictions as to size of boat or tides.
| | |
| --- | --- |
| Weyerhaeuser Boat Launch at high tide  – Cosmopolis | Weyerhaeuser Boat Launch at moderately low tide  |
| | |
(2) Friends Landing – Trout Unlimited
From Montesano, Chehalis River,– West 1 mi on US 12; R and over Highway, then (south) on Devonshire Rd, go 1.1 miles South on Katon Rd 1.4 miles to launch/recreation area. Single lane concrete ramp, $2.00 launch fee, large gravel parking lot. The ramp goes down a lot further and it doesn't just drop off when you do come to the end. No problem launching during regular low tides, not sure about a super low tide however.
Portable restrooms with picnic areas, and public fishing shacks, but no docks.
There is a groundskeeper and camping areas available.
Friends Landing launch, during a high tide, & after heavy rains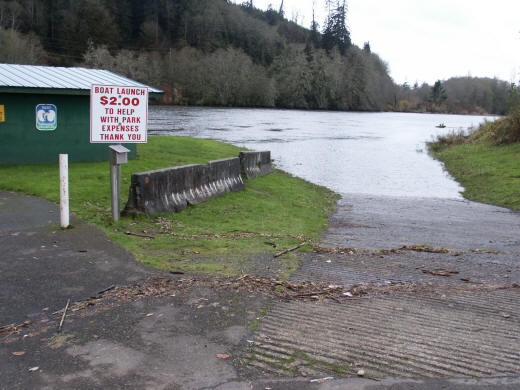 3) South Montesano (WDFW) – Chehalis River
From Montesano, South on SR 107 .8 mile Left at "Public Fishing" sign, go past the lumber mill, thru their parking lot & .2 mile to end of Rd under bridge. No Fee.
Triple lane concrete ramp, lots of gravel parking, but the ramps can be a problem at low tide with a drop off on the downstream ramp. And a mound of sand built up on the upstream ramp. As long as you have the water, you shouldn't have any problems launching and pulling out. But stay away from there during low tides.
Commercial Fisheries Here Also:  There can be both tribal and non-tribal commercial gill netting take place in this section and below. For a link to the Quinault tribal dates CLICK HERE. For the link to the non-tribal netting dates CLICK HERE.
When: This fishery usually starts October 1st when the season opens and runs thru November, depending on the rains, which govern the fish's migration. Ideally we will get 1/2″ or so of rain a day spread over 2 or 3 days and then drop down to 1/8″ for a couple of days. This will be ideal in it starts the fish into the river but not enough to allow them to migrate far upriver. This kind of holds them in the fishing areas accessible in the lower river for a while until the next rain.
Also the weather will dictate IF you can fish. You may not be as concerned with the weather itself, but if we get RAIN enough that raises the rivers to the point you are plowing mud. Or the water is high enough that it is near a mild flood stage that logs and other debris are coming down the river. These conditions put fishing out of the equation for a few days until things calm down.
Tides: The tides here do not seem to be as critical to fishing as in the lower part of the river, as the fish have moved into this area and are making their way upriver. However most fishermen do try to fish the incoming tide.
Where: This fishery is still in tidewater and the water will have some turbidity, with more on the high tide, especially one that has a high run-off. In this lower section of the Chehalis, the effects of upper tidewater ends at just below the mouth of the Satsop River. Most of the trolling will be in the section from the estuary up to the Montesano boat launch. Above that, you should consider a jet sled as at low tide, rocky bars and submerged logs tend chew up props for the newbie to the area (been there-done that). The casters from boats also tend to fish this same area. While the bank fishermen will be found where ever they can gain access. However you will catch the fish where the fish are, so if you do not connect in one location, move to another.
A suggestion here if possible is to use a depthfinder that has a sidefinder option. This will allow you to "look" into an area of the water without spooking them in this shallow water. Here is the ideal location to use that Bottomline Fishing Buddy unit you got for Christmas. With it you can scan a likely looking area for fish, if there is none, then move on to another.
The bend above the Montesano launch is about as far upriver you will want to go at low tide with a prop boat at anything other than high tide, as the river starts to get some shallow gravel bars and down trees in the river. The water is murky enough that you can not see the gravel bars, so you have to either run aground a few times or soon learn how to read the water. Don't think that how the river was a year ago is what it will be today, as winter floodwaters can change things
Here the bank fishermen use the rip-rap northwest bank just above the sawmill. They park at the parking lot at the old log yard next to the freeway and walk the 100 yards to this area or pull into the next road and drive right to the rivers edge.
If you limit out on salmon, or they are not in this area at the time you try, you can always anchor up and sturgeon fish, as this area is also good in this respect.
Hooks: The law says single barbless hooks, so if you are using some of your old spinners or you just bought a spinner with triple hooks you are going to have to replace them with a Siwash hook in size 3 to 4. And remember to pinch the barb down to make it a barbless to be in WDFW compliance.
2 different types of fishing ; You will probably see more trollers here than casters, but both can be effective. Many trollers will change to casting as the tide passes high and starts to recede.
Trolling: Early October right after the first rain.
It is suggested that you at least make a run in your intended fishing area at low tide to get some mental or digital pictures of underwater logs, debris etc. This will give you an edge as to know where to find the fish and also where to avoid if it looks like a place that you will loose lures often.
The most productive areas will generally NOT be in the center of the river. For one, this is where all the boat traffic is, this can spook the fish. These fish will tend to stay close to anything that they can feel secure near, as piling, logs, etc. This then equates to fishing near the piling and or shore lines. The water depths hear in the main part of the river will vary from 25′ to 60′, but you may encounter some underwater debris and logs in some of this section.
Troll in shallower water, (deeper water also dilutes your bait's saturation), in 16′ of water, your lure is covering more fishable water than if it was in 40′. This is not to say that don't fish the deeper water, but if you do, have one person fish deep and if another person is aboard, have them fish shallower. Here in this section of the river, you will have to be ever observant of underwater possible snags. If you are fishing near the bottom, it is best to NOT use rod holders, so you can raise the rod tip to clear underwater snags as soon as they are felt by your sinker dropper.
Use a lighter leader (12-15#) as a sinker dropper so WHEN it hangs up, this lighter leader will break before you loose your other gear. Have many 18″ droppers pre-tied. Use lighter sinkers (4 to 6oz cannon balls) here as compared to the John's River fishery. The water is not usually running as fast and the lighter sinker allows you to fish slightly higher off the bottom, and at a longer line angle therefore cutting down on possible snag-ups as the sinker dropper will slide up and over easier than if at a steeper angle. You can change the sinker weight as the current changes with the tide.
One thing I found to help eliminate chances of snagging up is to purchase the "Bottom Walker" weighted wire unit designed for Walleye fishing as shown on the bottom below. This seems to function quite well for fishing of this type. And when the walker wire hits something, the walker rides up and over and at the same time the shorter upper end of the Ell pivots and also raises the lure. With this you can actually drag the bottom, placing the lure in the fish's face.
Walleye bottom walker used for salmon trolling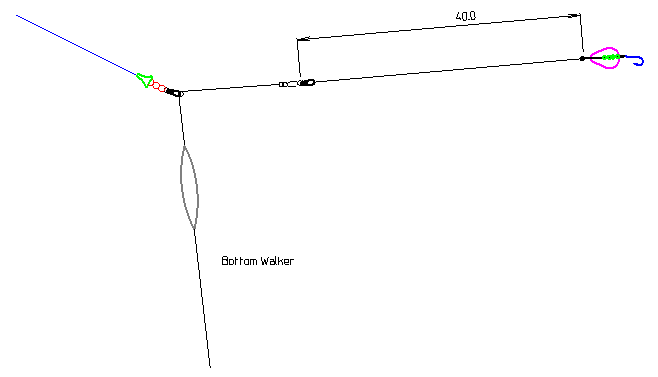 Many fishermen will concentrate below the Montesano ramp down to the first bend above Friends Landing. It appears they are targeting a possible slight concentration of fish off the mouth of the Wynoochee River, which is below the launch about 300 yards. Also, other fishermen use the Friends Landing launch downstream a couple of miles, so the river is pretty well covered.
If you see fish jumping or rolling and there appears to be a "bite" going on, FOLLOW this school of migrating fish UPSTREAM. Do not simply troll back and forth where they were a half hour before, as they have usually traveled upstream and out of your location with the high tide.
You will see many different lures used here. Trolled Wriggle Warts are used a lot, color mostly an orange or red. It has been tried to use a small sinker about 4′ above this lure, but it tends to reduce the action. Other gear you will also see may be trolling a saltwater mooching rig with a cuttplug herring. Another setup could be using a rudder about 24″ ahead of a sinker and then another 36″ to a spinner.
You will see sardine wrapped Kwik-Fish being used, also herring behind a Fish Flash, even a Spin-N-Glo behind the Fish Flash. When using a Fish Flash, it is best to add a section of mainline about 18′ long ahead of it and attach your dropper to the sinker at the end of the mainline, to separate the sinker and avoid possible entanglement of the sinker in the Fish Flash. Colors of the Fish Flash seem to not be that important. You will see light green or red, even blue used mostly, but color is usually what appeals to the fisherman.
The trolling speed will usually be slow. If the tide is running hard, you might want to search out a outside bend where the current is not quite as fast.
Casting:  This method usually will be what is used for Coho and will entail tying up to a piling or anchoring near some piling and casting toward and around these piling with a spinner or eggs.
The size and color of the lure is dependent on the turbidity of the water. If the water is clearer, then a spinner in the #3 or #4 in gold or copper or chartreuse, or a medium Wriggle Wart will suffice. Once the water color comes up, then a #5 or #6 Vibrex (the best) in flame orange with the blade a silver, or a magnum Wriggle Wart in the brighter colors of fire tiger or red/chrome will be needed. These plugs may have to be tuned to get them to run true and straight when retrieved. On the spinners replace all factory hooks with a #3 Gamakatsu Siwash hook.
Biggest mistake probably is, fishing to FAST and to HIGH in the water column.
Use a spinning rod and retrieve SLOW, THIS IS IMPORTANT, so that the blade just flutters, not rotate fast. You cast, let it sink and then twitch it to activate the blade. you may need to place a rubber twist sinker on the mainline about 18″ to 24″ above a spinner to get more depth. Fish DEEP, just off the bottom but above the snags. Don't be fooled in thinking that since the fish are jumping or rolling that you need to fish the top water. It sometimes helps if there is lots of snags to add a beadchain keel sinker about 18″ ahead of the spinner to allow you to feel the snag and then let the spinner to climb over it.
You don't need a long rod, a 8′ 6″ will work, but a 7′ rod is better. The rod needs to have a sensitive tip, but a heavy butt section, so that you do not need to use much effort to set the hook.
15# mainline is enough for this fishery.
Use butter type scent (Smelly Jelly) on lures.
A slack tide is easiest to fish as you can cast toward shore, but when the tide starts coming in, and to keep the belly out of the line when retrieving, move to near the shore, cast upstream. Keep the rod tip DOWN and keep retrieving right up to the boat, as many hits will be within a few feet of the boat, when the lure starts to rise off the bottom.
As the incoming tide's current increases, especially when using a plug, cast downstream and SLOWLY reel up into the fish zone. Continue to reel in thru the likely looking fish zone.
Casting has been productive near the piling across the river from the Cosmopolis launch and upriver to the first bend and Max slough to the left.
Weeds: Weeds are not usually the problem here as compared to farther downriver. However you will encounter floating sticks of all sizes more often here.
Copyright © 2004 – 2013  All Rights Reserved